May 5th, 2005 -- by Bacchus
If you've ever seen any bukkake videos, you'll quickly learn to wonder about the recipe the producers are using to manufacture their gallons of fake cum. Whatever the recipe, this producer must make the stuff by the barrel: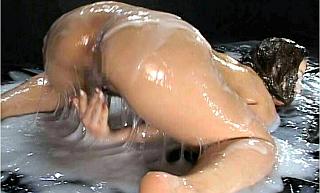 Yowza! She looks like something a very large alien sneezed up. Dubious source credit (but no honor) goes to alt. binaries. pictures. erotica. anime.