September 8th, 2006 -- by Bacchus
We all know better than to drink and drive. But there are worse things. (There are always worse things.) Here's a cartoon object lesson on the perils of drinking (we may assume), driving (an applecart pulled by a donkey), singing, and fornicating, all at the same time: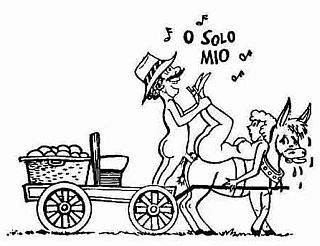 Moral: Be careful when multi-tasking, lest you accidentally fuck a donkey up the ass.
Addendum: For some odd reason, this cartoon reminds me of humorist P.J. O'Rourke's famous 1979 National Lampoon essay: "How To Drive Fast On Drugs While Getting Your Wing-Wang Squeezed Without Spilling Your Drink."