May 25th, 2008 -- by Bacchus
If I had one of these, I think I'd display it proudly among my tchochkes and tell anybody who asked that it's a medicine flask. Interested aunties would get some theory about the design being "to keep the cork from drying out because you always have to stow it cork-down" and non-squares would get the deadpan "it's for ladies to sneak whiskey into movie theaters with" explanation. Behold, the "Dutch Milkmaid" dildo from Studio Oooms: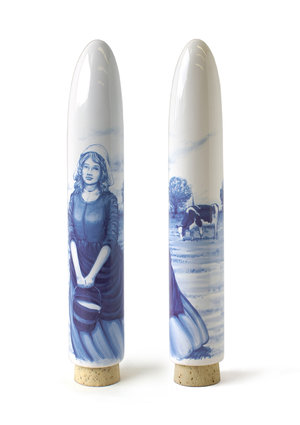 Thanks to AlwaysArousedGirl at JanesGuide — who shall never again be thirsty in a movie theater.
Similar Sex Blogging: