April 29th, 2009 -- by Dr. Faustus
As I was walking down an avenue on a pleasant spring evening in the metropolis I call home, I encountered on the side of a bus shelter a poster advertising a forthcoming effort from Pixar, which has been given the title Up. Well, nothing wrong there. I'm sure it will be a fun movie for the whole family, even if Pixar has been assimilated into the Empire of the Mouse. Except that I couldn't help but think "didn't I blog on a topic related to this somehow, just the other day?"
Yes, I did.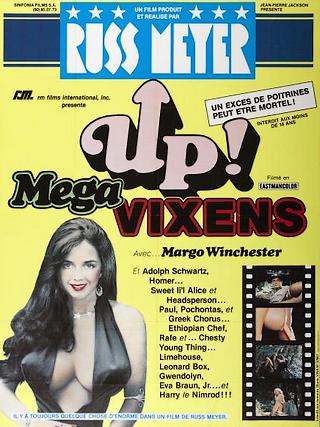 As it happens, there is a major softcore porn effort called Up! put out by the same Russ Meyer who gave the world Supervixens on which I had just blogged.
Not one of his better efforts, for my money, even if we do get to watch Kitten Natividad frolicking about sunshiney northern California wearing naught but a smile, But the point here is not film criticism. It's more like company criticism.
Granted, the Empire of the Mouse has it headquarters in Southern California, so it surely unfair to expect them to exhibit a Germanic degree of historical consciousness, even about film. But really, do none of those highly-paid executives know how to use Google? Or Wikipedia?
There are people out there, whom I lampooned in what is probably my most controversial ErosBlog post who certainly do know how to use Google. And I have a feeling that when they Google this one up (so to speak), they might be a little less than happy about the family movie they think they're researching.
There might be no joy in Burbank, come that day.