October 3rd, 2009 -- by Bacchus
I've been interested in computer erotica since nineteen eighty-something when I first saw a Mac "game" that featured a black-and-white line drawing of a naked woman, and some on-screen dildos that could be manipulated with a mouse to make her demonstrate an orgasm. (Some happy screaming audio and some screen-shaking in the best traditions of the early Star Trek, if I recall rightly.)
For almost as long, people have been using 3D drawing software titles like Poser to draw dirty pictures. Some of that artwork is incredibly good, although as with any other genre, there's a crap-ton of crap also.
Since my EverQuest days (many of which were spent as a Cleric on autofollow behind an insufficiently-dressed wood-elf Ranger as she bounced up and down over the hilly plains of East Karana) I've figured that the killer app for massively multiplayer online gaming would be an adult/erotic application that allowed you dispense with clothes and take cybering into the visual realm. So far, nobody's put together a good engine for doing that; but I remain as confident as ever that this, too, will come.
Although it's apparently not social or multiplayer, I've recently become aware of a game engine marketed by Hustler that seems to be working on a lot of the sort of tools such a sex MMORPG would require. Hustler 3D has graphics that remind me a lot of EverQuest (late 1990s tech) in quality, but I suspect it's the interactivity that will make it sell. Letting the customers control the action and the poses, and giving them a range of sex toys and bondage gear to play with, is going to appeal to a lot of people: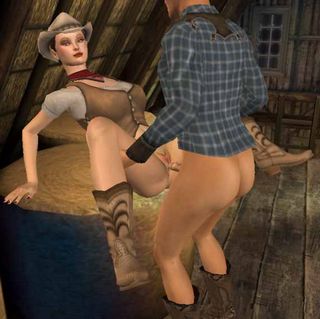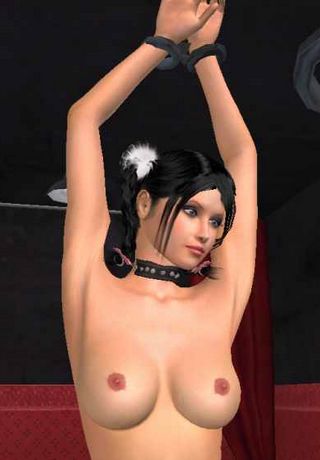 The marketing copy describes Hustler 3d as:
a stunning interactive world where consumers can play out their wildest hardcore fantasies. HUSTLER3D.COM is a stunning interactive world where users can enjoy incredibly realistic erotic experiences. Members can construct their perfect sexual partner by selecting a model or their favorite pornstar and modifying over 100 physical features. They can then explore unlimited sexual fantasies incorporating a wide selection of environments, novelties and sexual positions. HUSTLER3D.COM also gives users the ability to create their own HD picture galleries of their sexual adventures!
Although I suspect this project falls far short of the interactivity and (especially) sociability I've been imagining since my EverQuest days, it's clear that there are an enormous array of tools provided. Among the advertised features are:
Very specific accessories ("New Ball Free Gag Ring: Tired of that gag ball blocking a perfectly good hole to drop a load into? Well now you can have the perfect setup for target practice and endlessly squirt cum to your little heart's desire! Can you say ahhh, and excuse me if I'm not mistaken isn't that cum all over your tonsils?")
Support for furries ("Furverted furdom fans can now play with anthropomorphic furry personas to create erotic fandom art")
Elf and Vulcan ears ("Dial in fantastical ears in either 'Elf' or 'Vulcan' style")
Tongue control ("Mouth & Tongue Animation Sliders: Now you can have your models lick and flick a dick with the best of them!"
Dildo customization ("Custom Dildos While-U-Wait! Let your wicked imagination go wild with this fun new tool to customize size, shape, and style of your own range of dildos! Create sleek tools or insane scary big brutal ones to satisfy your insertion fantasies.")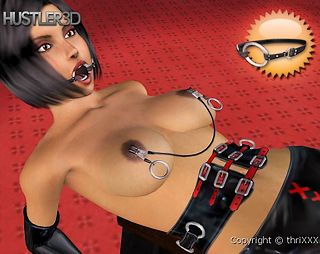 Technology marches on!
Update: Hustler no longer offers this product, so the links in the post have been removed. However, a similar product, basically the same software with Kink.com branding on it, is available.