August 3rd, 2010 -- by Bacchus
There's a cliched pickup line dating back at least to the Victorian age. A certain sort of London rakehell might invite a certain sort of "lady" back to his rooms to "view his etchings" — by which he meant his collection of expensive erotic prints, purchased at great cost from a certain importer of printed goods from Paris, if you know what I mean and I think you do, wink wink nudge nudge.
This might have been one such etching: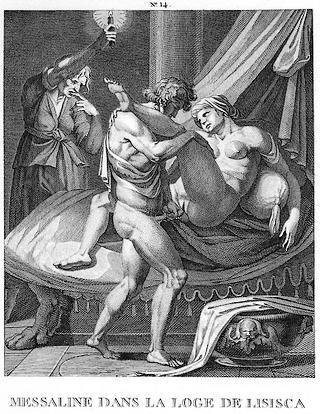 Jahsonic says the print "depicts Messalina's famous "Lassata, sed non satiata" scene told in the Satire VI by Juvenal in which Messalina worked in a brothel under the assumed name Lycisca, or 'The Wolf-Girl'.
Similar Sex Blogging: