October 29th, 2010 -- by Bacchus
It's almost Halloween, and doesn't that mean a proper virgin sacrifice if you're doing it right? Now, don't worry; in all the best virgin sacrifices, the virginity on offer is pure advertising puffery, and we wouldn't expect to hold Whipped Ass to any higher standard. And besides, puffery doesn't come any cuter than Chloe Camilla!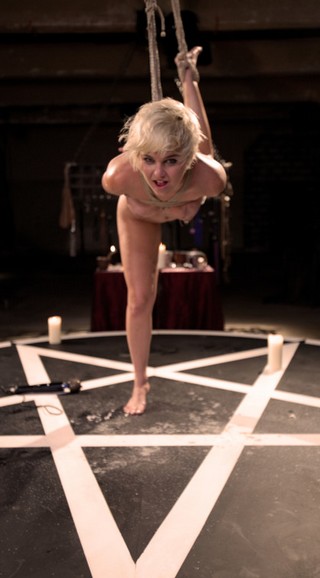 So anyway, on to the sacrifice! (Are furs in the pentagram really trad?)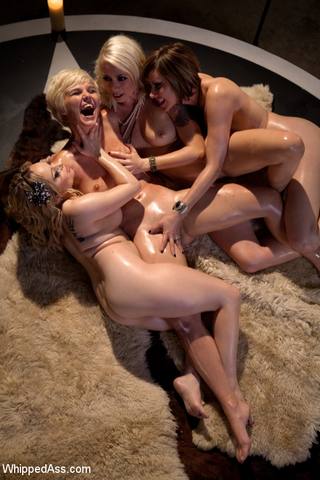 In case you were wondering, this was the formal agenda for the evening:
La Seduction De Chloe Camilla is a fantasy role play about a coven of witches who gain power by sacrificing lesbian virgins. Chloe is the most popular girl at the academy, completely adorable and all natural. She's the perfect virgin lesbian sacrifice. The witches aren't afraid to use their powers and BDSM in order to seduce Chloe into a dark and erotic world of pain, punishment and HOT lesbian sex. Lorelei Lee, Maitresse Madeline and Aiden Starr perform a ritual on her that will push her to her limits and rip orgasm after orgasm from her nectar filled cunt. Will Chloe fight the extreme sexual urge to be initiated into a cult of lesbian witches or join them once and for all?

This update includes heavy flogging, caning and spanking. Fisting, double penetration, foot worship, ass licking, painful zipper, humiliation, extreme orgasms, strap-on anal sex in bondage and more!

Hope you enjoy the update as much as we enjoyed making it!

Happy Halloween!
Maitresse Madeline
I do declare, after reading all that, I believe I might have a vapor!