May 20th, 2012 -- by Bacchus
So, I got some promo info about a new porn site called Tonight's Girlfriend so I went to look at a few sample pictures. And it's perfectly fine stuff: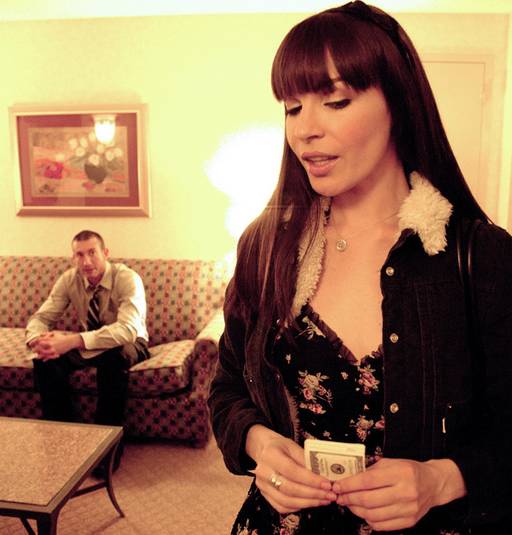 But then I got to looking at the prose description and marketing text, which is almost always a mistake:
She's here. My toy has arrived. I'm a huge fan of Dana Dearmond, and tonight she's going to become my fan, because she's going to do whatever I want, and she's going to like it. I'm in town for a few days, and I'm lucky enough to be able to pay for her services for a night. Tonight she'll take my dick deep down her throat and thank me for it. She'll get her asshole pulverized by my cock and ask for more. She'll do whatever I want, starting by wearing the outfit I ordered her and requested she bring. This is going to be my night, and Dana Dearmond will love it … because I will.
It's not badly written by the standards of the genre, not for the most part. It supports and reinforces the fantasy theme of the site, which looks like the paid "girlfriend for a night with no sexual limits" high-end prostitution fantasy that got old Charlie Sheen in so much trouble. ("High-end" could be a pun here … or maybe that's just me.)
But then I got to this line, which seems jarringly out of place: "She'll get her asshole pulverized by my cock…"
Wait, what?
I've seen this word "pulverized" before in porn writing. But I don't get it. Who finds the word "pulverized" erotic? In what universe is a pulverized asshole an object of erotic fantasy?
I know there's a whole line of gonzo porn out there featuring painful anal sex that is intended to leave the recipients stretched and sore. It's mostly not to my taste, but it's a fetish like any other. I'm guessing this is a sort of hyperbolized gesture toward that tradition. Perhaps no literal pulverization is contemplated; instead, it may be an exaggerated way of suggesting really rough anal sex without regard to her comfort, or even with the intent of being very painful.
I think about this stuff too much, I know. I should stop.
That, or open a cannibal fetish site: "Minced assholes, with fennel and sage!"
Similar Sex Blogging: