February 2nd, 2014 -- by Bacchus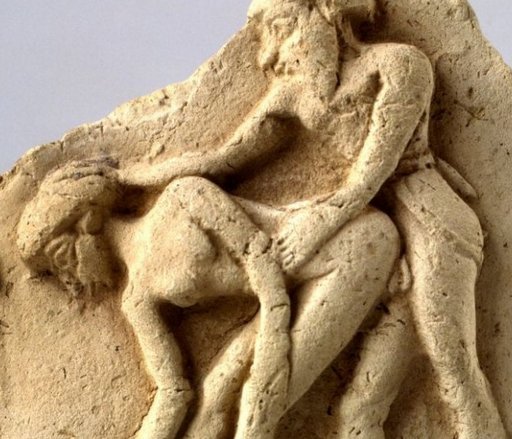 This Mesopotamian porn from 4000 years ago (1500 years before the Kama Sutra!) is via The Times Of Israel:
Two clay plaques, small enough to hold in your palm, depict couples copulating in remarkable detail. Dating from the early second millennium BCE, the Old Babylonian period, they come from a 300-year window when mass-produced terra cotta plaques were popular, including those that exhibit sexual acts.

Mesopotamian erotica was "really something racy," Laura A. Peri, curator of Western Asiatic Antiquities, said when we met in the labyrinthine bowels of the museum. "It's not all, you know, missionary and that's it."

…

The terra cotta plaques from Mesopotamia yield numerous different sexual positions, but one of the most popular was what's referred to technically by the Latin: coitus a tergo – from behind. While erotic Mesopotamian art doesn't detail a specific means of entry, anal sex was deemed a popular means of contraception by ancient couples before the invention of prophylactics. The depiction of couples engaging in rear entry may be indicative of that practice. Other plaques show partners side-by-side, standing up (aka lleváme) and plain old missionary; some depict women with legs spread, squatting over a comically large phallus.

That the erotic clay plaques were found in temples, graves and private homes makes it difficult to generalize about their intended use, but is testament to their popularity. That excavators found the erotic artwork in high-traffic rooms of homes leads Assante to infer that they were accessible to men, women and children.

"It's a kind of pop art, because it's very cheap material and easy to make," curator Peri said. She explained that sexuality was very prominent in ancient Sumerian and Babylonian art and literature, particularly in the late-third and early-second millennia.
Similar Sex Blogging: