October 2nd, 2014 -- by Bacchus
The Stockroom's 2014 Halloween Sale offers big discounts on kinky costumes and astonishing masks, which we have seen in Halloween sales past. But this year, there also seems to be a "spooky torture chamber for his junk" theme going on, with all kinds of spiked genital toys, ball crushers, urethral sounds, and penis plugs on sale. And why would you need that oh-so-heavy but very-atmospheric iron maiden for your kinky party venue when there's instead the opportunity to put an iron maiden directly on his dick? Behold the Spike Cage, designed to ensure very-well-behaved penises: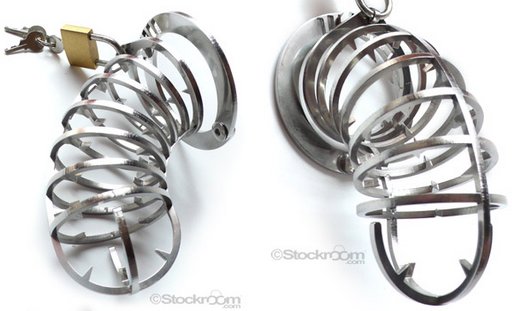 This versatile device offers the best of both worlds, with a stainless steel spiked cock cage created to be much more than just a chastity device. The above average length cage is designed with seven spiked rings, beginning at the base and ending with four spikes inside the head of the device. The included ring is adjustable due to its handcuff style locking mechanism. The cage itself attaches to an adjustable steel ring by means of a single pin designed to hold the included lock in place.
Similar Sex Blogging: