October 27th, 2014 -- by Bacchus
In the comments on the post about bondage sex images a few days ago, steadfast commenter Dr. Whiplash asked:
Got any obscure material depicting a male in bondage, blindfolded, where a group of dominant females have secured him to one of those gloryhole-style milking tables, while one female is under the table teasingly manipulating his oiled penis and testicles, a second is ravishing his well-greased anus with a good-sized strap-on, as a third is forcing him to lick her hairless pussy? If not, I'll settle for this blindfolded dude to be locked in a chastity device, while one female teasingly attempts to lick his manhood through the open spaces in his cock cage, a second is inserting a fat butt-plug into his sphincter, while a third has backed into his face for a thorough rim-job.
Well. That's certainly specific, Snidely! And the sad answer is that no, right this very moment I do not have any images that precisely match either of those requests. But I can offer a drawing that seems very much in the spirit of them, if one doesn't mind missing a few details: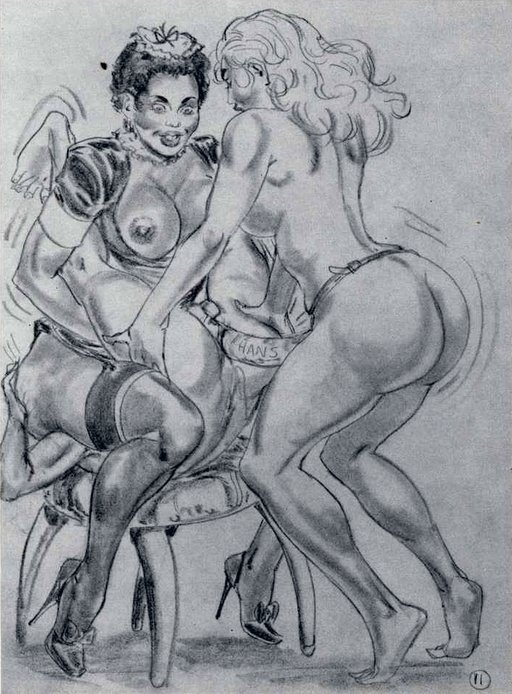 Artwork is by Eric Stanton, probably from one of his Stantoons publications.
Similar Sex Blogging: