March 18th, 2015 -- by Bacchus
I can still recollect with considerable horror the first time I noticed and admired the silver labrys double-bitted ax pendant worn by a woman at my table in a college dining hall. I was a gamer and to me it was just another fantasy weapon. To her, it turned out, it was symbolic of women's liberation and lesbian separatism, being representative of the necessity, practicality, and general ease of cutting off men's useless balls. #YesAllMen They say college exposes you to new ideas and different ways of thinking. They say it, because it's true.
Perhaps that explains why, when I first saw this Cock Screw Set by Oxballs, I thought the design was supposed to represent a labrys: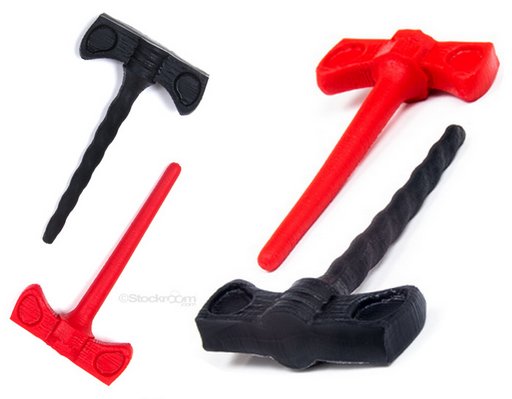 I was wrong. No labrys-shaped handles here. The Stockroom sales copy says the handle of these urethral sounds is representative of a wing nut, which makes more sense even if it's less fun for CBT fans and dominatrices everywhere:
Want an even easier way to screw your cock? Add some wing nuts to your dick screw for some practical handling. The innovative Cock Screw Set consists of a pair of thick silicone sounds featuring wing nut handles at the base so you can easily control how deep you want to penetrate or how slow you want to twist without fumbling, like with other smooth-ended plugs.

The Cock Screw Set comes with two sounds: Spike and Twist. Use Spike for a smooth slide down your shaft, or really put those wing nut handles to use with Twist, turning its spiral shape deep inside until your eyes roll back. With both measuring an impressive 6.5 mm diameters at their widest points, you'll be pretty well stuffed no matter which design you use.

The Cock Screw Set of sounds are made of 100% pure platinum cure silicone, making them ideal for urethral insertion. Both a body-safe material and able to be sterilized, these silicone plugs are also flexible, allowing for a more forgiving insertion. Made in the USA by the cock toy experts at Oxballs.
Similar Sex Blogging: