May 13th, 2015 -- by Bacchus
Ever since I got on Twitter back in 2009, I've followed (at least for awhile) some of my favorite porn producers there. And one thing I was surprised to learn is that many of the smaller producers who used to focus exclusively on maintaining their subscription porn sites branched out when the whole business of selling porn subscriptions took the big nosedive some years back. Although most of them still keep up their subscription sites, it rapidly became clear that they were putting the most of their attention into — and getting an important part of their revenue from — the project of making custom porn shoots for wealthy customers and patrons. This really took me by surprise, because it wasn't a service I'd ever seen advertised and it seemed likely to be rather expensive. I also learned that many of these custom videos were made to very detailed specifications, with the customer choosing the performers, specifying their costumes and outfits, and often providing a detailed script.
In my mind I categorized this as just another idiosyncrasy of the rich, like having a private sushi chef on your yacht, or insisting on smoking nothing but monogrammed cigars. And so, perhaps, it is.
Or maybe it only used to be an idiosyncrasy of the rich? While exploring the modern cams business as I discussed last week, I discovered that one cams offering (FetishGirls.com) has set up a custom porn video request service, with orders fulfilled by one of the cams models that they have available. These are not fully-featured porn movies with multiple performers, but just about anything legal that a single camgirl can perform, you can specify and request, putting your specific wishes (right down to dialog and costume, if you want) into the system along with the amount you are willing to pay: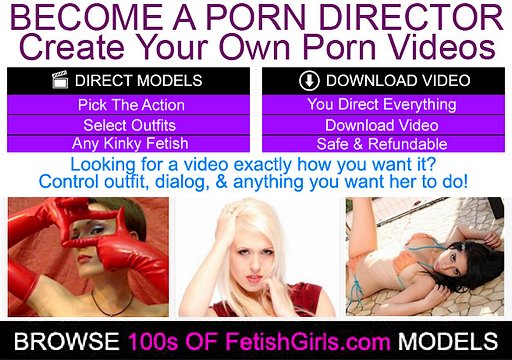 These are not expensive performances. Although you have to register at FetishGirls.com (free, no credit card needed) to see the pricing and the other details of the process, it turns out that permissible bid amounts range from ten to 200 dollars, with the average request at about thirty bucks. Performers attracted by the request (including the bid amount) indicate their willingness, and then the customer chooses from among the willing performers. That performer then produces a downloadable product to specification, and the customer approves and downloads his or her custom video. There is even a guarantee, although the details are fuzzy; the company advertises that refunds are available if a video is not to specification.
Interestingly, you can also see the other custom video requests currently in progress. Right now these include among their number a smoking fetish request, a fart fetish scenario, and a bratty-dominatrix fantasy. That last one is a $100 request and there are currently six different models the customer can choose from who have indicated willingness to do it.
Fetish Girls also offers a more traditional "private sessions" cams service, as well as scheduled live streaming sex shows and a clip store functionality where performers can sell their own clips.
Similar Sex Blogging: