July 21st, 2015 -- by Bacchus
This right here is brilliance in sex toy design. If you have played around very much at all with cock rings, you'll have learned that tighter is almost always better… once the ring is on, that is. But there's a sharp trade-off between the tightness of a cock ring in use and the difficulty of putting it on and taking it off. The tighter it is, the more straining, fiddling, and potential abrasion of tender skin goes into the donning and doffing processes.
Enter the Ze Bowl Magnetic Cock Ring. Small magnets have become almost magically powerful these days. (If you don't believe me, just let these powerful magnetic nipple clamps squeeze your nipples for a few seconds and you'll sing the song of the true believer.) The apparent genius of the magnetic cock ring is that the magnetic ball is substantially thicker than the ring; when the ball snicks into place, it reduces the effective diameter of the ring, making it more snug than it was while you were putting it on: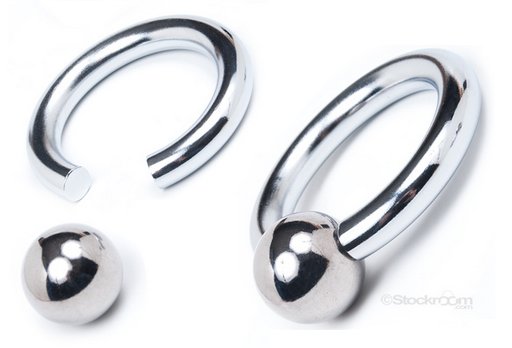 Here's what The Stockroom has to say about the Ze Bowl:
Raging hard-ons rage even harder with the Ze Bowl Magnetic Cock Ring. This ultra thick gauge stainless steel ring features a big ball detail that also doubles as its best feature: unlike most other metal cock rings that are difficult and unforgiving to put on, the Ze Bowl features a removable and magnetic ball that makes it easier to put on, even while erect.

Simply slide the ring on with the help of the open side, then carefully place the ball over the opening – powerful magnets will hold it tight in place, even through the most furious fucking.

The ample weight from the steel ball and ring claims a firm and heavy grip, holding tight for bigger, harder erections. And nothing makes a big, hard cock look more badass than some masculinely oversized stainless steel. (Additional side effects may include more intense orgasms.)

Important note when selecting your size: the diameter will become slightly smaller when the ball is in place. Size 45mm will become 41mm, and size 50mm will become 46mm.
Similar Sex Blogging: