September 14th, 2015 -- by Bacchus
Sure, you've already done your spelunking Boy Scout or Girl Scout routine while wearing your LED headlamp and wielding a speculum. But you want to see more, better; and you want to record it for your future viewing pleasure. There's nothing left, my surveillance-happy friend, but for you to procure a Siime Eye LED-illuminated wand-style waterproof vibrating wireless camera, so you can explore and carefully document all of your lover's warm dark and deep places: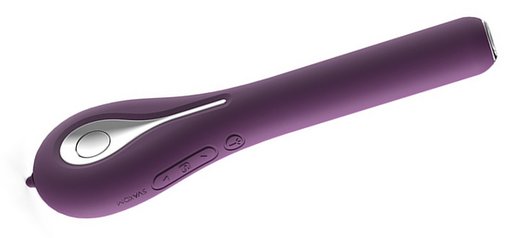 About a toy this high-tech, you no doubt have questions. The Stockroom has answers:
If you want to capture and relive your most intimate moments of pleasure, the SIIME Eye is for you. This wand-style vibrator features a wireless internal camera capable of broadcasting (and saving) pictures and video to your computer, tablet, or smartphone. The camera is surrounded by four LEDs for illumination, boasts a wireless range of up to thirty meters, and, if you're in the mood for an adventure in the bathtub or swimming pool, the SIIME Eye is also entirely waterproof.

In addition to its camera capabilities, the SIIME Eye includes five user-controlled modes of speed and pulsation and SVAKOM's pre-programmed "intelligent mode," a vibration mode that mimics the entire seduction process from gentle foreplay, to teasing pulses, to multiple climaxes.

The SIIME Eye is available in a romantic purple, made of body safe silicone, and powered by a rechargeable lithium battery.
Similar Sex Blogging: