January 8th, 2016 -- by Bacchus
Simple lists of links and sites are among the oldest and most respected ways to navigate the adult internet. Various kinds of porn linklists first saw heavy use before there was any such thing as a useful search engine, and these days I'm seeing quite a resurgence of them, now that we live in an era where the search engines are quite deliberately refusing to return useful search results for many adult terms.
Although most adult lists and directories cover a huge variety of porn link categories, Webcam Champs is a much more specialized list, focusing entirely on links and reviews of live sex cam sites: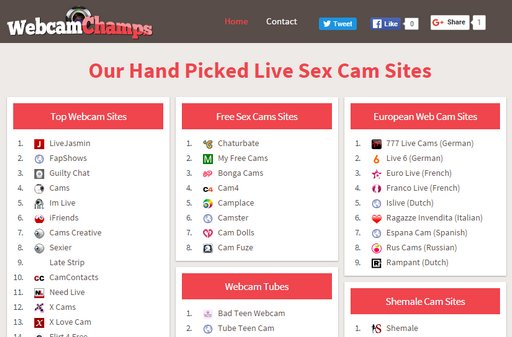 This is actually a more useful service than you'd think at first glance! The reason is that many of the adult webcam sites have dozens or hundreds of "white label" versions, so if you're just clicking random banners and running searches for camgirls, it can be very hard to tell if the unfamiliar sex cam site you just landed on is really something different, or if it's the same as the site you visited yesterday, just with a different brand name at the top. The Webcam Champs camsite linklist avoids that sort of confusion, linking as it does to most of the main sex cams providers without much (if any) duplication.
What's more, when you mouse over some of the Webcam Champs links, there's a "details" button offering access to a thorough review, like this LiveJasmin review. Not all of the listed cam sites have reviews yet; the Webcam Champs people say they are working on it but "as you can imagine, that's a time consuming process." The reviews they do have, though, are quite detailed, covering everything from the number of cams performers available to the history of the sites, the quality of the performances, and most vitally, the cost of cam shows.
If you're currently looking for the best place to get the kind of cam shows you want, you might find the Webcam Champs list very helpful. Enjoy!

Similar Sex Blogging: