August 17th, 2016 -- by Bacchus
The porn model directory is not a new internet concept. In fact it's an old (because very good) notion: make a searchable list of all the porn stars, and then give each one of them a profile with their public information and links to where you can find (in the commercial sense) the models and the porn they make. With access to the right databases, you can automatically populate a good chunk of the directory, and it should be popular with the many porn surfers who fixate on a particular model and want to see more (all!) of her.
Of course, it's never that simple. There are a zillion performers, most of whom come and go from the business so fast that their commercial web presence is ephemeral. Making a truly comprehensive porn model directory turns out not to be very easy. But if you lower your sights just a smidgeon and set the on making a directory that is "merely" very large and quite good, you get something like Porn Gatherer's site Pornstar Directory. They have more than 11,000 performer profiles as of this writing: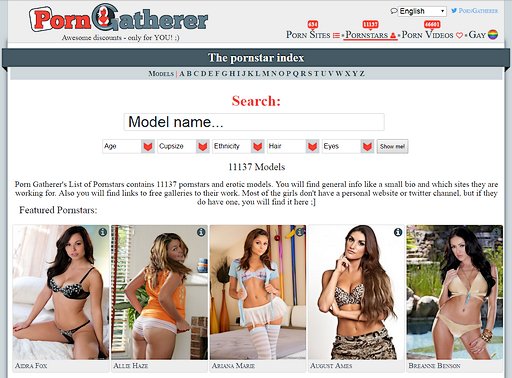 It's true that not all of the performer profiles are equally fleshed-out, but the best of them (like this one for Annie Cruz) are well-populated with the many names she's performed under, a selection of the websites where she has appeared and can still be seen, her biographical data, her Twitter handle and recent feed, and a nice representative sample of the many free galleries where more of her porn may be viewed.