August 25th, 2016 -- by Bacchus

This post marks only the second mention on ErosBlog of a burgeoning new phenomenon: virtual reality porn. What I knew about VR porn the day before yesterday I can state in a few short bullets:
VR porn tends to be an immersive, point-of-view experience using virtual reality headsets that are just now recently hitting the market;
People who have seen VR porn — at least on the better gear — tend to rave endlessly about the high quality of the experience; and
I don't have a headset. (Hardware people, where are the ErosBlog review headsets???)
Despite my woeful lack of a headset, the VR porn people at Sex Like Real asked me to write about their site where they aggregate and distribute all the new VR sex movies from studios like Naughty America and BadoInk VR. In fact it looks to me as if they are trying to distribute the vast majority of the VR porn titles out there; their site lists 887 videos from at least a dozen studios.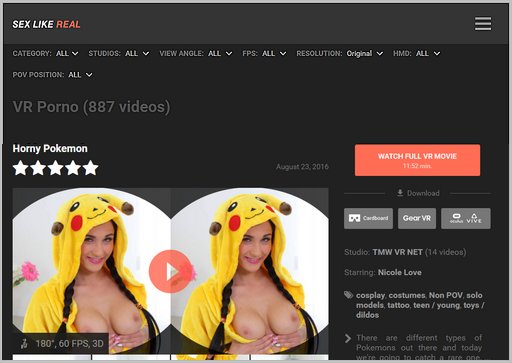 Sex Like Real also provide data for a site that comprehensively lists all of the studios known to be making VR porn; there are more than thirty studios on the list, but a bunch of them are still in the experimental phase of offering just a few titles. The studios that are jumping on the VR porn bandwagon are some of the biggest in the industry and the porn talent they are using includes most of the hottest women working today. You can see for yourself, at this directory of more than 500 VR porn models where you'll find many familiar names and faces.
And what about the hardware? You absolutely will need a headset of some kind, because the whole idea here is to provide imagery that fills your field of view and immerses you in the action. Supported headset platforms include Google Cardboard (which appears to be literally just an origami-cardboard viewing frame you can wrap around your smartphone while it's running the appropriate app), the Samsung Gear headset that works with select Samsung smartphone models, the Oculus Rift headset (the Facebook-owned one that famously began as a Kickstarter), and the HTC Vibe (a headset that comes bundled with Steam's VR offering for gamers). My understanding — which is probably so laughably inadequate and over-summarized that the tech fanboys won't even bother to scream at me in my comments — is that the Oculus and Vibe are the most expensive and require serious Windows PC hardware to power them, while the Gear offering is currently sitting in the price/performance sweet spot, at least for people who already have the phones that can power it.
Sex Like Real offers both direct download of porn movie files as well as via their VR porn app. This impression of the viewing experience on the Gear should give you a flavor of what the virtual porn experience is, ah, shooting for:
The scenes are shot from the male POV (Point Of View). It's like you're sitting on the sofa and girls perform all the stuff. The level of their determination to please you and the interaction with the girls is what defines the viewing pleasure. The hot pornstar gives you a lapdance or some other kind of foreplay (to me those moments where among the hottest VR porn parts) then she goes down and gives you a blow job so you get that feeling like being blown. When it comes to actual intercourse you get to fuck one or more hot women. They will grind all over your cock, bounce in and out, and perform all sorts of sexual acrobatics while you just sit back and enjoy the ride. It's an immersive experience where the girl does all the work.
What about POV porn for women? Don't panic! Despite the regrettable "all about the menz" flavor of that one male reviewer's prose, there actually is POV porn for women, and Sex Like Real carries it. Their site has a Female POV porn category with (currently) 34 movies. This one here is called Angelo Worships The Fuck Out Of Your Feet, which is no small thing in a world where some women will exchange blowjobs for foot rubs: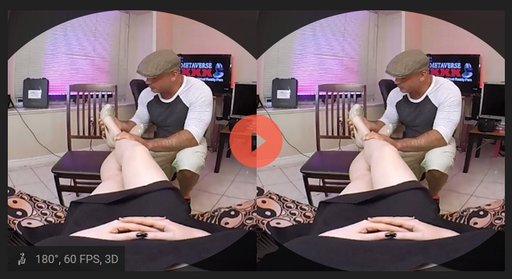 See also:
Just checked out VRporn at #XBIZ.I was a man fucking a woman.My dream of temporarily having penis was finally fulfilled.Better than strap-on

— Elena Rydkina (@purerydkina) January 13, 2016
There's a lengthy thread on Reddit about the Sex Like Real app as experienced with the Oculus Rift headset. Feedback seems generally very positive with a lot of "wow, it's amazing!" type remarks. One thing that's clear in that thread, though, is that VR porn (and all these headsets and apps) are still a bit rough around the edges; there's much geekery on display about bitrates and resolutions and hotly-desired features not yet to be found. Another thing that's clear is how fast things are developing; there are features people were requesting two months ago on Reddit that are currently visible and available on the Sex Like Real website today. Without hardware in my hands and porn filling my field of view, I can't give you an ironclad opinion on just how ready all of this is for prime time. But I will say this: a lot of people are working very hard and iterating very fast. By the time VR headsets are as common as game consoles, there's not going to be any shortage of VR porn to watch on them!

Similar Sex Blogging: