November 6th, 2016 -- by Bacchus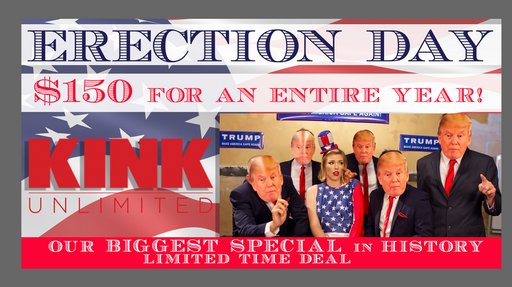 Election Day is Tuesday… but Erection Day is already here!
Kink.com is offering the biggest discount in their history, now through election day at least, and probably available through the week. To "help get the American people to their poles" they've added to their join page a one-year subscription to their Kink Unlimited product for just $150, which is less than half the usual price of $319. (They were previously offering a four-year subscription for $400, but apparently ran into billing problems with it and had to change the promotion.)
What you get for your money is access to all of Kink.com's considerable stable of porn "channels" (formerly websites). (Be aware these are all now video only, as Kink.com no longer sells still photos).
If the election doesn't go your way, you'll need some serious self-care during the next four years. With this deal to get you started and a bunch of lube, you'll be in good shape to, ah, ride it out!