December 21st, 2016 -- by Bacchus
From the very earliest days of sex blogging (I'm talking maybe 2002, when ErosBlog first started using the term "sex blog") some of the sites that were in a sort of not-quite-competition with the nascent sex blogs were the "babe blogs" or babe sites, many of which had been around for more than a few years already by then. Babe sites always traditionally had more to offer than the so-called "thumbnail gallery posts" or TGP sites did; those TGPs, of which there were tens of thousands in those days, usually linked small thumbnails to galleries featuring (maybe) some good pictures plus (certainly) lots of hard-sell affiliate marketing. By contrast, babe sites always offered full-sized pictures right up front, which you could view without following a lot of links if you didn't want to. What you didn't usually see back then at either type of site was the thing that gave sex blogs a niche: written prose, or much of any commentary on any of the pictures.
Since those days the babe sites have evolved, just like the sex blogs and everybody else too. So when Sexo18.net (whom I would consider to have been babe-blogging for a very long time even if they don't themselves use that term in 2016) asked me to have a look at their Sexo Babes Videos offering, which I take to be a babe site's evolution into video, I was curious to see where Sexo has gone with videos, in this era when most porns surfers head straight to some messy uncurated site full of user-uploaded clips of dubious quality and uncertain provenance.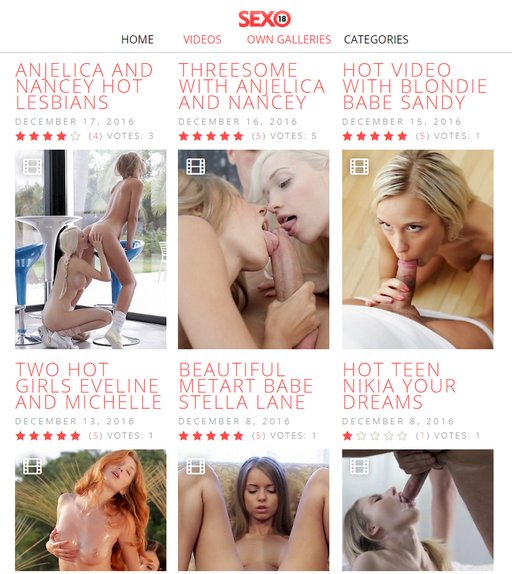 What did I find? Well, babe sites have come a long way! Sexo's babe videos section is pretty and appears well-curated, offering mostly trailers for full-length videos, presented with big clean hot-looking thumbnails. The clips are decent in length (the ones I checked were all about six minutes long) and (this is important for producers) are linked straight to the producer websites, making it possible and easy to purchase the whole movie, or to subscribe to that producer's member site if you prefer. Because such provenance links aren't usually so easy to find on some of the leading "everything free" sites these days, I appreciate that they are prominent at Sexo18.net. It's definitely a comfortable place to browse high-quality short porn video clips and to find the full-length movies they come from.