February 27th, 2017 -- by Bacchus
There's a fascinating publication in the Internet Archive called The Dirty Book, which was was a quarterly publication from the early 1980s primarily concerned with listing erotic software products for home computers.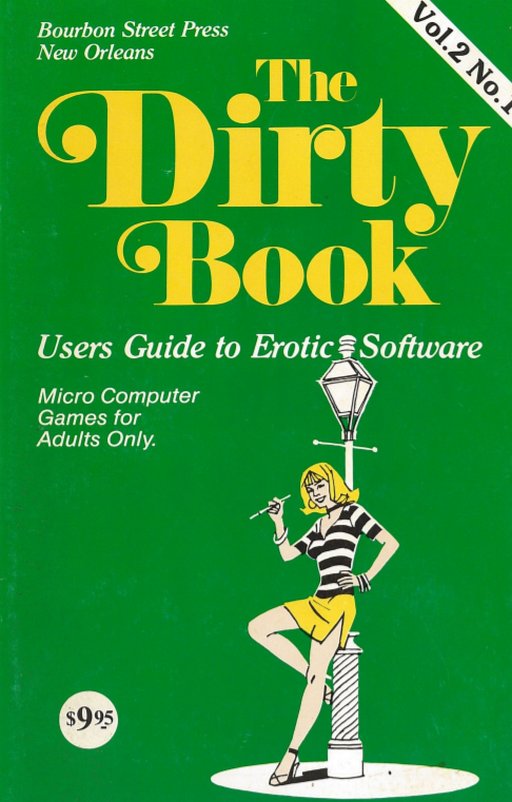 In this particular issue, there's a somewhat satirical story describing the experience of dealing with an early computerized dating service:
THE BINARY HOOKER
RIZ RALSTON

The morning mail contained a surprise. A free copy of a computer magazine. Apparently when I registered the warranty for the system the company had purchased for my department, my name was included on the complimentary subscriber list. I leafed through the book, fascinated by the variety of uses for my computer and the hundreds of different companies providing programs and accessories. One advertisement in particular caught my eye. "Xaviera invites you to byte her bits at 300 or 1200 baudy…" followed by a toll-free number.

My computer was equipped with a modem. I used the system often to forward reports and financial data to the home office. But, at the present, with my project on hold due to high interest rates, all I had to look forward to was waiting for the odd telephone call which might come in. So I decided, what the hell; booted my communications program and entered the "800" number. I was totally unprepared for what appeared on my display screen.

Xaviera, the hook-up explained, was a kinky computer freak who liked to get people of like interests together. Her computer would match up subscribers and store messages for selected parties. Then followed a candid description of some of the activities enjoyed by subscribers already on the system and a query about my interests in participating. In for a penny, in for a pound. I punched in a Yes and a questionnaire appeared. After some basic questions about height, weight, coloring of hair and eyes and marital status — a painful subject just then — things quickly got more interesting.

First came a long, explicit set of multiple choice questions about sexual preference. Then a series of questions about techniques, philosophies, devices (?!), fantasies, and finally, geographic location.

I must confess I was both amused and shocked at some of the questions. There were things I'd never considered doing, things I'd never heard of, and some subjects about which I thought were only rumored to exist. Amazing as it seems, but a well-read, broad minded person like myself had never once contemplated being asked to choose between two lovers of the same sex or one of each in a presumably three-way encounter. After some thought, I decided 'either way' was okay. I mean, after all, I wasn't taking this too seriously.

Then came the hooker. Xaviera's proposition appeared on the screen. My answers were now recorded as Record #53,814. No name was attached to this record. If I wanted, I could call again the next day and learn how many other records on the system 'matched' or closely approximated my interests. What's more, for a small subscription fee, I could sign up, receive a subscriber number and have a 'mail box' opened on her system. Then I could receive messages from other subscribers who may be interested in contacting someone of my obvious strengths and stamina … for a little fun, perhaps?

The game was now obvious. Xaviera had put a new twist on a computerized dating service. That was the last thing I thought I needed and broke the connection, but not before committing my record number to memory.

Later that night, after a desultory dinner with a neighboring co-ed, I reconsidered. What the hell, I thought, that 20 minute session with Xaviera's computer had been the most interesting thing to happen in weeks. The next morning, I booted my Comm package and entered the number. After Xaviera's system gave me the pitch all over, the questionnaire reappeared. The first question, "Record #" was skipped over yesterday. I didn't have one. Now I entered my record number 5-3-8-1-4. In a few seconds I was astonished to learn that 112 other records came within 84% correlation, 3 were exact matches, and 74 of these records were Subscribers.

Would I like to leave a message for someone?, the pitch came again. Sure, why not. In response to my positive entry, the display now informed me that I could charge the subscription price to my Mastercharge or Visa account, or could send a check to a post office address in New Orleans. I selected Mastercharge, figuring that would be quickest. Twenty seconds, and fifty dollars later, I received my subscriber ID# and an assurance that a list of subscribers matching my interests would be mailed that day. I entered my office address, using a false name and initials of the firm. As I was preparing to break the connection, a message flashed on the display.

SUBSCRIBER HOU702 . . . YOU HAVE A MESSAGE.

WOULD YOU LIKE TO VIEW IT? (Y/N)

This was incredible. I typed a "Y" and a few seconds later, received this communication:

TONGUE AND FINGERNAILS TO A 19-YEAR OLD, BUCKING BRONCO COWGIRL BADLY IN NEED OF BREAKING AND TAMING? I USUALLY THROW MOST RIDERS BECAUSE THEY DON'T TAKE THE TIME TO LEARN HOW TO CONTROL THE RAGING BEAST INSIDE OF ME . . . "DALLAS ALICE".

HAVE YOU HEARD ABOUT THE GUY WHO TRIED TO MOUNT A DISKETTE, SLIPPED, AND NOW SINGS 'ALTOS' IN THE CHOIR? FOR SOME MORE STUFF FOR THE GUYS WITH THE RIGHT STUFF, CONTACT SF0069.

Things continued on like this pretty much for the next several weeks, I received messages and spent my days concocting outrageous replies. Occasionally, the telephone rang and interrupted my computerized piccadillos, but I dismissed the intrusion with a mumble. I noticed on my credit card billing another $50.00 had been charged by Xaviera as a 'monthly subscription', but I didn't care. The replies I was receiving from my 'correspondents' were looking like they were starting to produce results. I was anxiously awaiting the day when a meeting could be setup with N0R023, a woman who calls herself Sinthea.

A few months and seemingly hundreds of messages were sent and received — not a single subscriber had slipped into my bed so far — when the comm screen indicated "no answer". I directly dialed the number myself. It was true, the phone line was not being answered. This state of affairs continued for several days, my mental state becoming increasingly anguished by the moment. I was sure I was very close to getting together with one or two subscribers. The delights they described sounded pleasantly unbearable.

During these days I was able to catch up on some work, filing long- overdue reports on the project and such. Finally, one morning, Xaviera's system was back on line. She apologized for the inconvenience, there'd been a fire in an adjoining office one night and the sprinkler system on that floor of the building had come on, damaging their computer system and destroying records. The message went on to explain that subscriber questionnaires would have to be re-entered and new billing information obtained. I didn't hesitate to log-in another questionnaire, hoping against all odds that I'd make the same entries again as the initial answers I'd given half in jest before.

Once again, I was informed that a list of subscriber ID 'matches' would be sent to me as soon as possible, I should allow a few weeks this time, in order for the data base to be rebuilt. I felt close to panic. Would I be able to make contact with Dallas Alice again? Would Sinthea still be interested in coming to town? Arrangements still had to be worked out.

As I was about to log-off, a familiar message appeared. I had a message on file. Would I care to receive it now? I plunged for the keyboard.

GREETINGS FROM N0R023. YOU MUST BE ONE HELL OF A MAN IF YOU LIKE THE POSITIONS YOU DESCRIBED. I DON'T KNOW YOUR ID# YET BECAUSE I WAS SCANNING THE LIST OF MATCHES LATE LAST NIGHT HOPING FOR A SURPRISE AND DISCOVERED YOUR RECORD #. I'M LYING HERE ALONE AND ACHING TO BE TAKEN. PLEASE LEAVE A MESSAGE, HONEY. I SURE WANT TO KNOW YOU BETTER.

N0R023

PS: DO YOU HAVE A MUSTACHE? MY FANCY COULD USE A TICKLE.

Odd. It was the same message I'd received from Sinthea after I'd originally signed up. Confused, I logged-off to consider. Well, maybe they were still having some problems with their computer. I'll wait for my updated ID listing and see what happens then.

I sweated out the mail delivery every morning, craving an answer to my increasingly horny dilemma. But a month went by, then another. I called the '800' number. No connection. When I tried a voice call, I was informed the number was no longer in service. Scrambling through long overlooked stacks of mail, I found my last MasterCharge billing. The "subscription renewal" was $500.00! Alarmed, I called the magazine in which I'd originally seen Xaviera's ad. Their advertising department couldn't give me a phone number or address. I was furious, desperate. Not only was my love-life struck a fatal blow, but a typing error at the same charge card processing center threatened to bankrupt me.

Gathering my wits about me, I called the post office in New Orleans and was informed that I must send a written request for the post box owner's name and address.

I sent a mailgram.

A few days later, the reply arrived, giving a company name, Love Longer Computing, Ltd. with a suburban New Orleans address. I closed my office and jumped the next flight. Taking a cab from the airport, I arrived at the address of the company. All the way from the airport, I agonized about losing touch with Sinthea and the Tulsa Twins. Their messages were explicitly to the point. I was sure I couldn't face life anymore if I didn't try the Persian Love Basket with those two eager youngsters.

At last we arrived. Love Longer Computing was listed on the building directory. I took an elevator to their floor, the walls of the car seeming to press in, contributing to my increasing maniacal anxiety. When the doors started to open, I plunged through, caroming off the half opened doors into the back of a workman leaning against a heavy dolly. Muttering an embarrased apology, I scuttled away, darting glances from side to side at the numbered office doors.

Finally, I came to the offices and found the door ajar. My eyes fell upon the sign affixed to the door. My heart hammered and a wave of grey swept over my eyes. I reached for the opposite wall of the corridor for balance, mistook its distance and slid to the floor. As my breath returned and vision cleared, I couldn't bring my eyes away from the empty, print- out strewn rooms of the office. To raise my eyes would be to invite another body-blow. The sign on the door seemed to leer, taunting me as the messages I received had done. COMPU-TEASE.

* *• *

About the Author: Riz Ralston

Riz has a checkered background, having dealt in contraband, white slavery, and popular music, sometimes separately, sometimes in various combinations. Riz writes most of his stuff by dictating to a rotating (!) staff(M) of scampily clad 'secretaries' who also double as masseuses when not on-line. Because of his early financial successes in the aforementioned lines-of-work, Ralston is financially well-off. He has recently invested in a company developing lifesize programmable sex robots and is finishing his second book on bedroom automation.

Ralston authored the book that is credited with launching the 'Office Automation' industry: "Automation Is Best Applied To Things Done Over and Over". He is a widely-respected antagonist of the ERA, posing the questions about why women would want to become equal and give up all their power.
Similar Sex Blogging: