July 7th, 2017 -- by Bacchus
I recently upgraded to a large wide-format computer monitor that was a fortuitous three-dollar yard sale discovery. It was seven years old and covered in cobwebs, but it was also in never-used condition once I brushed away the spiders and peeled the factory-original protective plastic film off the vent louvers, so… winning! On a big monitor like this there's rather quite a lot happening visually all at the same time when I go to a premium tube-style video clip-viewing site, as when I might want to watch HD BDSM videos on Porndoe: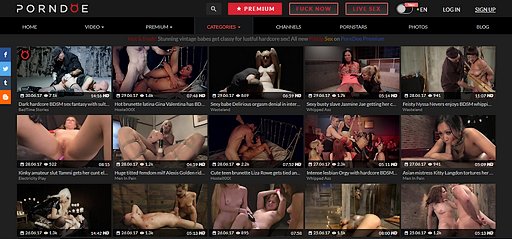 Porndoe is a modern-style tubelike video delivery site, with generous clips of high-quality porn. Brands — at least in the BDSM category — are mostly ones I recognize; in addition to standard US brands like Wasteland and some of the Kink.com and Intersec channels, there is a fair amount of glossy Eurokink on display, in that sleek and colorful but not-unduly-kinky style that has grown up in recent years as the will-work-for-cheap East-European porn models have started eating regular meals and stopped (if I may be forgiven for saying this) mostly looking as if they were surviving on a diet of found cigarette butts and mineral water. It's a welcome development! The marriage of German kinkiness with Czech and Ukrainian beauty that has come to typify a lot of European bondage porn in recent years is a heavenly match for porn consumers who are also unabashed perverts, at least in my not-so-humble opinion and speaking as one of the aforesaid unabashed perverts.
Like a lot of modern tube-like sites, Porndoe evidently has close relationships with numerous porn producers: relationships that translate, for you, into "premium" membership opportunities where your paid premium participation at Porndoe is similar in effect to having subscriptions to a whole bunch of porn sites with which Porndoe does business. These relationships also enable specialty channels that feature high-quality collections of material from particular porn producers. For example, at Porndoe you can visit the BadTime Stories channel, a premium offering advertised at Porndoe with 19 free videos and approximately 1600 free bondage and BDSM photos that are set in various stylish German dungeon play-spaces. Further offerings from this producer are for premium members only, but the trial (at least) is very inexpensive.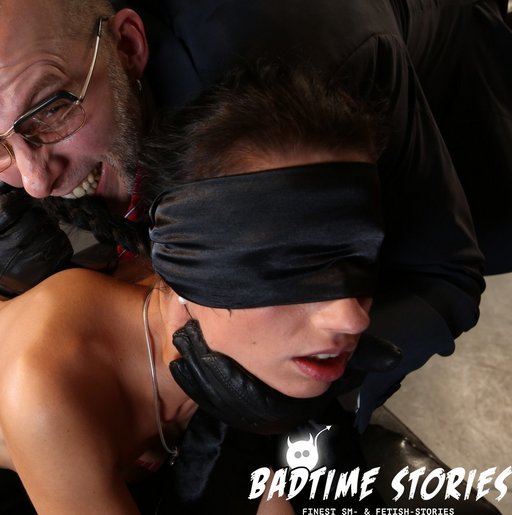 Fans of VR will be pleased to hear that there are also more than 200 VR scenes available on Porndoe, which I mention because there's still not so much out there for the the headset crowd, as many of you let me know every time I write about VR. Enjoy!