August 3rd, 2017 -- by Bacchus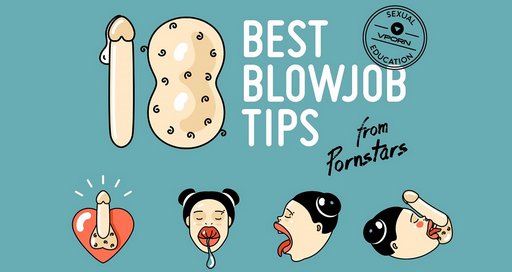 Being a contrary soul the way I am, I find that there are at least two of these 18 best blowjob tips from pornstars (via the Vporn.com blog) that I don't agree with on philosophical grounds. (I'll let you guess which ones.) However, I'm all about sex advice from skilled professionals, and while I don't agree with the Vporn guys that adult film stars should be the only true sex educators to the exclusion of all other sources of sexual wisdom, I cannot dispute that Skin Diamond, Harley Jade, Cindy Starfall, Cadence Lux, Sophia Grace, Nickey Huntsman, Dana DeArmond, Maxine X, Trillium, and Kayden Cross between them have an enormous wealth of blowjob experience. It would require towering hubris for any aspiring cocksucker to disregard their advice entirely. These ladies know their way around a dick!
My two favorite tips from the infographic are, I think, related. They are Number 1 ("Make Love To The Cock") and Number 3: ("Make Eye Contact"). In the expository blog post that accompanies the infographic, Skin Diamond explains "You do not want to be like I am bored." Indeed, no! Meanwhile, Cadence Lux emphasizes the eye contact message: "Totally a lot of eye contact." It's no accident that neither of these tips is about the physicality of the experience; instead, both are about selling it emotionally. A man's got a lot of options for applying physical sensation to his dick; it's the emotional presence demonstrated by the dick-lovin' and the eye contact that are going to make the experience special. Getting your dick sucked, at its worst, is just a fancy way to jerk off; but it's at its best when it's sucked by someone who is into you and fancies your dick. These tips emphasize that simple fact.
The Vporn.com blog where I found this combines light sexual education content with porn performer news and profiles. It's in support of the Vporn videos site, which is a tube style clips offering with a considerable variety of porn clips in many categories. Most categories are very well-stocked; for instance, the Mature Videos category has more than 42,000 clips that have been tagged with the "Mature" tag.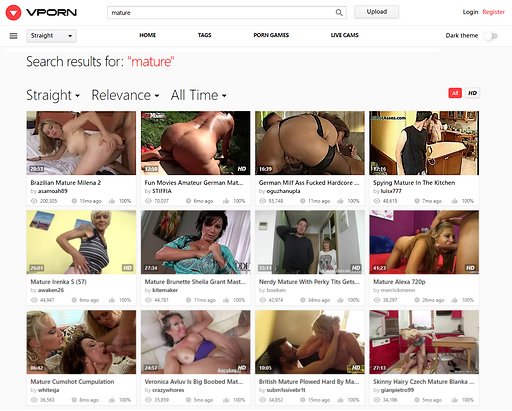 Since Vporn appears to be a traditional-type tubesite that relies on third-party clip uploads, the standard responsible-porn-consumer exhortation applies: don't forget that the studios and models you enjoy at sites like these need to get paid, and your enjoyment of their stuff via free sites doesn't pay their rent or encourage them to make more porn. Thus the usual reminder: when you see porn by models and studios that you like at sites like this, remember that the content you see here is promotional, and respond accordingly. Find and subscribe to their sites, buy their custom videos, be a customer at their paid clipstores, support their Patreons, retweet them on Twitter when they advertise new work, pay for their OnlyFan pages and their "special" Snapchats, the whole nine yards. Be present for them with your wallet, not just with your dick! (Or, you know, whatever you got; this exhortation is not genitally-specific.)

Similar Sex Blogging: