April 13th, 2018 -- by Bacchus
Several years ago, I had occasion to write that the best of the venerable internet porn link lists originally served as start pages for horny surfers, presenting an array of excellent dirty links in handy categories. It's still true today. Although the site I was writing about at the time has undergone a rebranding and moved to a new domain, it continues to catalog the top porn sites at its new PornsiteStars.com address: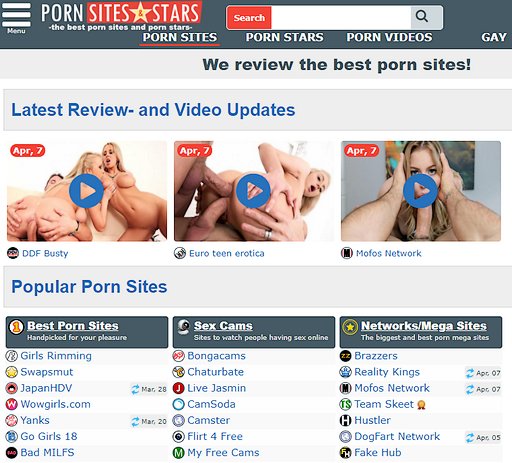 Under its new name and slogan, Porn Sites & Stars: The Best Porn Sites And Porn Stars retains its impressive porn star index, now grown from 11,000 to almost 17,000 performers. Models are searchable by their various working names plus gender, age, ethnicity, hair and eye color, and breast size. Successful searches return impressively-comprehensive profiles based on social media, news feeds, and other public sources, along with links (where available) to promotional material and/or sites where their work can be purchased/viewed.
Porn Sites And Stars also includes link category pages that feature capsule reviews and front-page thumbnails of most of its listed sites, which makes it much less of a blind click-and-guess festival for the curious surfer than an old-school link list used to be. The reviews, being numerous and brief, don't brim with nuance and detail, which in any case you wouldn't expect; but they are very handy for knowing more-or-less what you're clicking into before you get there. And they clearly represent years of effort!
Among the recent features added to Porn Sites And Stars that make it truly a link list for the 21st century: a category of streaming porn video-on-demand (VOD) sites and services. What? You don't have a porn channel on your Roku yet? They can fix you up! Another new feature: a well-populated category of free virtual reality (VR) porn clips. VR porn is something that first started crossing my radar back in 2016. While cheap headsets are now showing up in my local Mega-Lo-Mart, I don't think we are yet seeing them hit the market in genuinely compelling configurations of quality and pricing. I expect to see high-quality headsets at consumer-friendly price points with mass-market penetration of those headsets in combination with must-have consumer applications (probably games and mega-hit non-porn media from big West Coast and Japanese studios) pretty soon, but I haven't seen it yet. Once we do, all the porn companies that have been beavering away (see what I did there?) making VR porn and getting it into distribution will be sitting pretty. And the free VR porn clips category at Porn Sites And Stars is a very nice summary of what's available now, if you're lucky enough to have one of the existing headsets.
Bottom line: Porn Sites And Stars combines the useful features of an old-fashioned link list with porn site reviews and a porn stars directory, plus modern twists like streaming VOD and VR porn. Very handy and useful!

Similar Sex Blogging: