November 9th, 2002 -- by Bacchus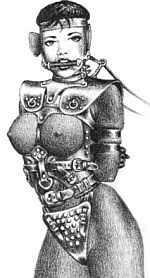 A report in The Scotsman claims that Uday Hussein is into pony girls. Well, sort of anyway:
A former security guard at Baghdad racecourse recently claimed that Uday and his friends would gather at the clubhouse where, after consuming prodigious amounts of whisky, they would force naked women to wear numbers and race around the track.
Now there's an image sufficient to capture the mind's eye…until brutal reality intrudes and reminds one of the terror that must come to these poor women when they are "invited" to go to one of Uday's parties.