January 6th, 2003 -- by Bacchus
Here's a cute site for your viewing pleasure: Bondage in Everyday Life.
No porn here, nor nudity even. Just a collection of photographs of real life bondage situations – college dorm pranks, women getting arrested, gagged-mouth protesters, people chaining themselves to things for causes, bondage in amateur theater, that sort of thing: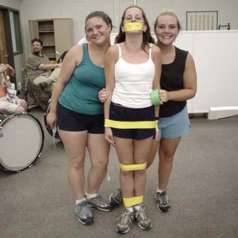 Sorry ladies, this site seems to collect female bondage pictures exclusively.