April 9th, 2003 -- by Bacchus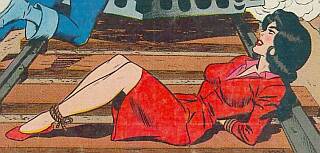 Bill Grogan's girl
was feeling fine;
wore her red dress
fresh off the line.
Bill took a stick
gave her a whack
and tied her to
the railroad track.
The whistle blew
the train grew nigh
Bill Grogan's girl
was sure to die.
She gave three groans
of awful pain
inhaled big
and flagged the train!

With all due apologies to Bill Grogan's Goat.