April 23rd, 2003 -- by Bacchus
The Dixie Chicks, who took a lot of heat lately for speaking their minds, have apparently decided not to stop. This surely is a case where a (nekkid) picture is worth a hundred thousand words. From Yahoo: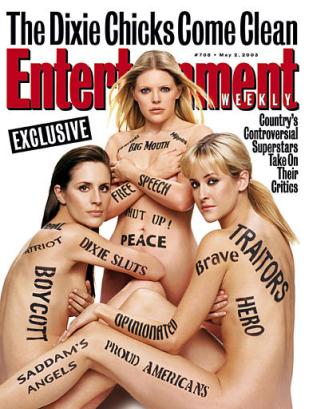 As a PR move, it's fucking brilliant. Anyone who just sees the magazine will know where they stand, without reading a word, except perhaps for the words written on their fair skins. It doesn't matter what you think of their politics or their music; the genius on display here (along with all that yummy flesh) is pure public relations.
Brilliant. Beautiful. Proud. Naked. Bacchus is in love awe.