June 27th, 2003 -- by Bacchus
This, allegedly, is food, prepared by good churchly people and served to children and maiden aunts with a straight face: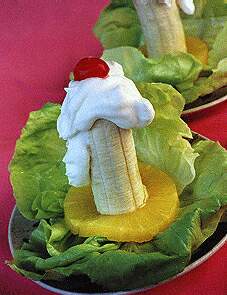 Apparently it's called "Candle Salad" and it's prepared in all innocence by Mormons and folk of that ilk. Theresa explains it all, in a long post about Mormon food of which this is but the tiniest excerpt:
Back then I was also taught to make candle salad, only we dipped our bananas in Dream Whip and rolled them in crushed cornflakes before placing them upright in their pineapple rings and sticking half of a red maraschino cherry onto the tip. It takes a very, very clean mind to think that up.
Oh my, yes.
Similar Sex Blogging: