November 10th, 2004 -- by Bacchus
Visiting adult toy websites can be a most educational experience. The ungently-named Joy Rider Fuck Machine is a celebration of the pervy things that can be done with "ultra refined medium density fiberboard":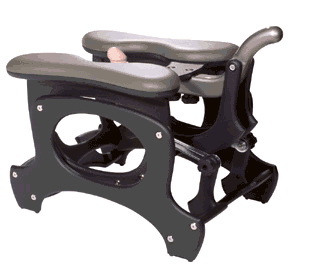 It's said to be a very versatile machine:
Grab onto the silver handle and fuck yourself to orgasm! The Joy Rider has an articulated seat specially designed to make it easy, fun and safe for people to experience penetrative sexual pleasure. The Joy Rider is smooth, stable so you can concentrate on the pleasure you deserve. The machine relies entirely on your body movement to do all of its thrusting. There are no motors to plug in or breakdown, and no noise. More importantly, because Joy Rider responds only to your movement, you have complete control so it's like a lover that can read your mind.

The Joy Rider has a seat which rocks in response to your movement. As the seat assembly moves forward or back in relation to the base, the thrust control arms move the pivoting thrust arm assembly upward or downward in relation to the seat. … [It] features thrusting controlled entirely by your movement, so the speed and depth of penetration is easy for you to vary and bring yourself to orgasm as quickly or as slowly as preferred. [It] is perfect for anal stimulation. That part of the body is full of nerve endings and can be a wonderful source of pleasure. Because the Joy Rider is easy to control you won't have to be worried about being penetrated too hard or too fast.
So, has anybody out there actually tried this thing? Inquiring minds want to know.