December 8th, 2004 -- by Aphrodite
Having some steamy sex over Thanksgiving was great for me, but now I think I miss having a man around even more than ever. Not just for the sex, but mostly for the simple pleasures that I'd forgotten about. Cat over at Pussy Tales knows what I mean. She pegged one of my favorite things in her post he smells like yum:
and I know I'm not making ANY sense here but…that smell can be any smell of him…like shampoo or deodorant or after-shave or just that natural body smell…hmmm…that's my favourite…that natural smell of a man…when he's been working a bit too hard…or when he's taken a long hot shower and his skin is fresh and tastes just like honey…he's warm and tender and tastes SO yummy…
Girl, you are making loads of sense to me! Hooboy, do I ever miss the smell of a man! Sometimes I think they can be as bad as women about trying to cover their smells, although they do have less to obsess about, I guess.
While reading some news this morning, I came across another testament to people's fascination with penises going way back. It's a penis tree, although that's really hard to see in this scaled-down picture: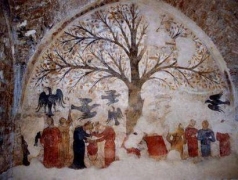 The caption under the image (a Reuters image I found at Yahoo News) reads as follows:
An undated handout photograph shows the Massa Marittima mural in the Italian town Massa Marittima. At first glance the mural looks fairly similar to dozens of other medieval frescoes dotted across Tuscany, but a closer look at the spidery tree which dominates the centre of the painting shows its branches are covered in penises. Until now, it was assumed the phallus tree was a fertility symbol but according to a British-based expert, it is a actually a unique piece of political propaganda, commissioned by one Tuscan faction to sully the reputation of another.
The link will take you to a slightly larger version of the image…not large enough to see anything in sufficient detail, alas.
Hope all this makes up for my absence lately….trying to get ahead on some work, for reasons which I might be able to announce to y'all later today. :)