February 2nd, 2005 -- by Bacchus
In days of yore, when men were men, and pledges were sore….
I went to a blessedly frat-free college, and this picture is way before my time anyway. So I don't really know if the whole frat-spanking thing was ever real, or is more an artifact of collegiate legend, writ larger in the nostalgic recollections of drunken alumni.
But I figured Aphrodite and the "more pictures of guys" choir would appreciate these young men bent over in their athletic briefs: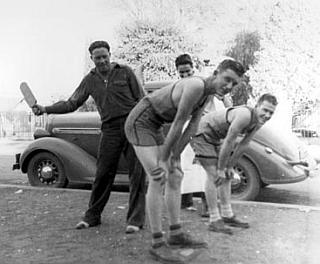 Thanks to Spanking Blog.
And now the Nymph and I are off to catch the train for New Orleans. Mardi Gras here we come!