September 22nd, 2005 -- by Bacchus
I'm a small town boy at heart. Setting aside the sometimes-amusing literary conceits of porn sites like Street Blowjobs (sorry, boys, but the young ladies sucking on "Bob Incognito's" prong are recruited in the usual porn industry fashion and they know they are on camera), I would normally assume that even low-end commercial sex transactions are unlikely to occur in broad sunlight within feet of beer-swigging pedestrians. And so, it's possible this photograph is not what it looks like: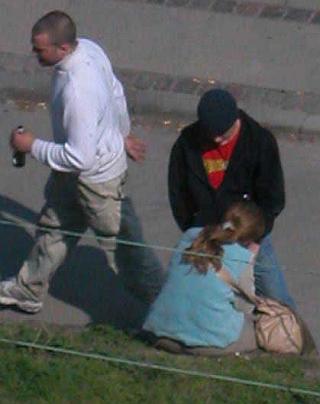 Although that posture is hard to explain, it's possible he's just trying to give her a discreet hit on his device for incinerating illicit chemicals. Heck, maybe she's trying to help untie the tangled knots of his friendship bracelets, using her teeth to worry the strings loose. It's possible….
But then, it's also possible (and perhaps more likely) that more things happen on the mean streets of the big city than I'd previously imagined.
Similar Sex Blogging: