August 27th, 2008 -- by Aphrodite
My sister is a big fan of the Olympics and sent me this picture during the Chinese games: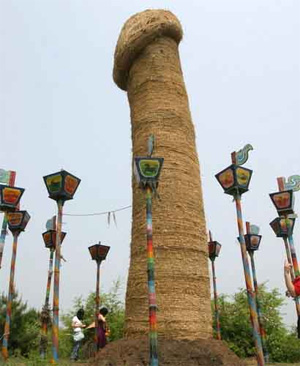 All she said in the email is that it's the world's largest penis and it is somewhere in China. If that's true, my question is why is it a circumcised one? I thought automatic chopping was just an American thing (fetish, mutilation, whatever).
Since Bacchus is grooving on the medical drawings this week, here's a fun, older post on penis evolution from Pharyngula. Some of the comments are pretty funny.
(B., I asked my GYN once about that fingers-in-and-pushing-down-with-the-outside-hand action……she said it was to feel how big the uterus is. Soooo. Sexy. NOT!!)