December 1st, 2008 -- by Aphrodite
Canada sure is hot for a place so far north. Sexy stars such as Keifer Sutherland and Jennifer Tilly hail from the Great White North, and according to a map I recently found online, it's brimming with erotic-named places. Here's a sample: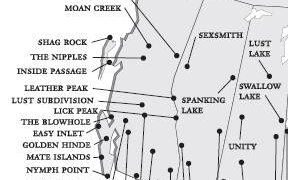 Bacchus must be really happy that Nymph Point is so close to Mate Islands and Easy Inlet.
Yes, gentle reader, your eyes do not deceive you: there are more, many more such names across the country! Geist magazine created the original map in PDF, and Bacchus created a JPG version.
All that remains is to change the old SCTV insult to "Take off, you fucker!" What a road trip, eh?
Similar Sex Blogging: