April 26th, 2009 -- by Dr. Faustus
Looks like we're into a serious thing about Uschi Digard these days at ErosBlog. A serious good thing.
Russ Meyer once said of Uschi that she "…had the dedication of a Watusi gun bearer. She'd do anything. She'd run over bare coals and cut glass. I mean literally. She was that kind of chick." (From Jimmy McDonough's fine biography of Meyer, Big Bosoms and Square Jaws, p. 240, which also gives us the interesting bit of information that Uschi spoke nine languages.)
What better opportunity (as if I needed any excuse) to go into the library and bring back some images from Uschi showing her dedication in Meyer's Supervixens. Uschi shows up as SuperSoul, the lonely "mail-order Austrian wife" of an isolated farmer, who put her to work.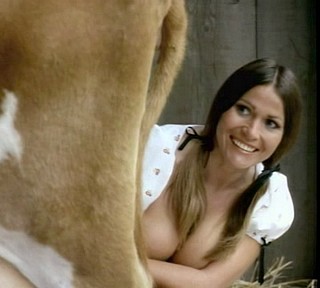 Milking a cow.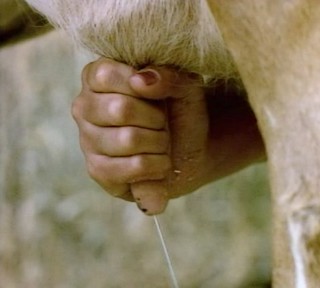 (Yes dear readers, the whole sequence is filled with symbolism just as heavy-handed as that, almost a burlesque in itself.)
Inevitably, since this is a Russ Meyer film, things swiftly turn to a literal roll in the hay with the hired hand.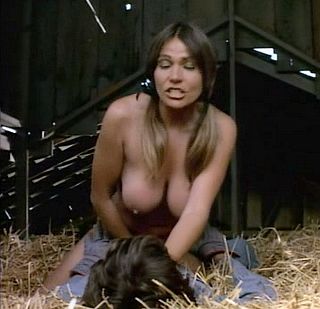 Which SuperSoul unsurprisingly finds satisfying.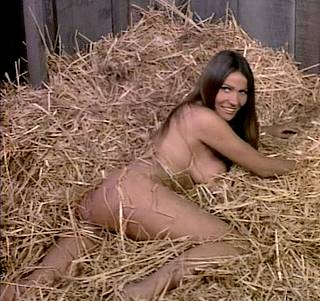 Hired hand is then chased off by pitchfork-wielding farmer angrily denouncing him. "Desecrator of connubial bliss!"
Watusi gun bearer, we salute you!
(Bonus movie trivia point: Supervixens launched the career of a now-veteran character actor who has appeared in everything from The Blues Brothers to Austin Powers. Kudos to you if you can name him without peeking on the Internet!)
Similar Sex Blogging: