May 31st, 2009 -- by Dr. Faustus
Having had the pleasure of recently posting on real octopus sex, my naughty mind naturally turned to the question of what else I might be able to post on in the "sexy female invertebrates who kill their mates." And that of course, takes me right back to my beloved domain of weird cinema, in this case to Invasion of the Bee Girls, released thirty-six years ago this Monday.
As tireless (but never tiresome) weird movie web reviewer El Santo so aptly puts it, we have in this strange movie evidence that the popular culture of the early 1970s was completely out of its mind. A mad scientist is abducting the women of a small town and running them though a bizarre procedure involving radiation and lots and lots of bees. The women then turn into "bee girls," who in turn kill men through sexual exhaustion.
One twist: the mad scientist is a beautiful woman, played by Anitra Ford.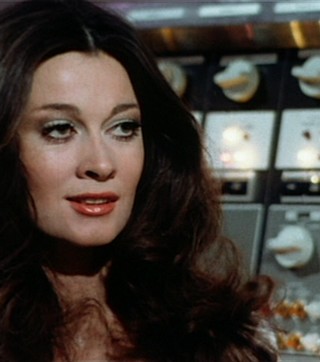 Now there's a great deal of gratuitous nudity, sex, and violence packed into this flick's 85-minute runtime, as well as a great deal that simply beggars belief. I won't review it in detail since I think El Santo (among many others) does a bang-up job doing so already. But I did want to at least show a bit of its main bee-girl transformation scene, because this in particular is a jaw-dropper.
Mad Scientist Lady and her crew kidnap the wife of a corporate scientist. (The wife is played by Anna Aries.) After sedating her and stripping her naked, they dose her with radiation: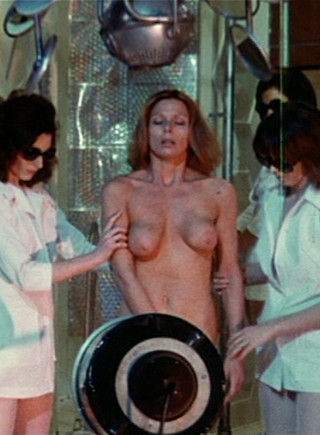 A process which our victim seems to find not unpleasant, actually.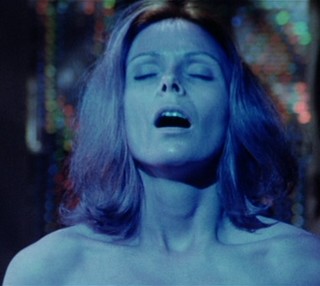 They then proceed to cover her in some sort of honey-like goop…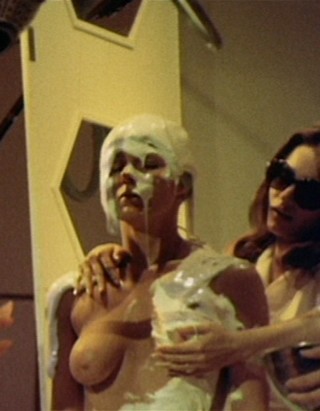 And place her in a chamber with (all you insect fetishists, prepare to be delighted) an awful lot of bees, who enclose her in a cocoon.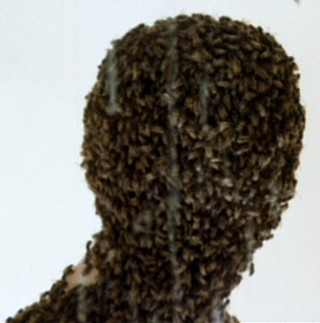 After all this and a bit of fun penetrating radiation treatment, our victim emerges, astonished and transformed, and a newly-made bee girl (note compound eyes). Mad Scientist Lady seems quite pleased.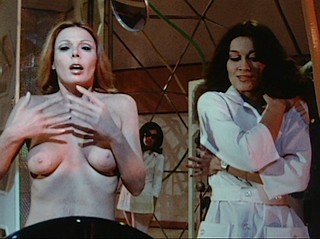 I've watched this scene any number of times and still marvel that someone obviously went to a lot of trouble to script it, set it up, and shoot it. I wish I could have watched that being planned ("Okay, next we'll put her in a chamber full of bees! Yea, that's it!")
We get bonus cheesecake later on when Mad Scientist Lady attempts to subject Miss September 1967 Victoria Vetri to the same treatment.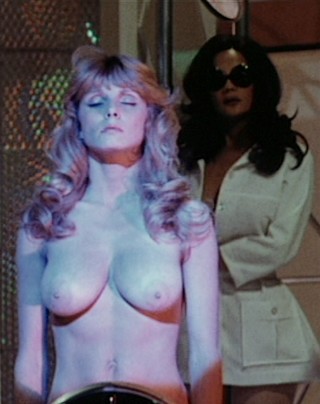 But unfortunately for science a Government Agent Hero Guy played by former Marlboro Man William Smith bursts in and rescues her, killing Mad Scientist Lady and her coven of Bee Girls in the process. Which is too bad. I was rooting for the Bee Girls.
I am hard pressed to think of any other piece of soft-sci-fi sexploitation that has the same utter courage of its demented convictions as this movie does, and I wonder (and in fact, sort of regret) that there aren't more like it. Speculation and suggestions for further related viewing are welcome in the comments.
Similar Sex Blogging: