December 20th, 2009 -- by Dr. Faustus
I have long had an item on my Internet searching to-do list, perhaps too long delayed by the fact that I've spent as much of my leisure hours as I have thinking about sexbots and gill men and so on. That item was to track down a famous performance by the soprano Maria Ewing done at the Royal Opera House, Covent Garden sometime in the early 1990s. Oh, don't groan. She very much deserves a place of honor here, because of her performances in Richard Strauss's Salome.
Now, it's well known that the burning erotic core of this overheated-to-begin-with opera (based on a play by Oscar Wilde is a performance by Salome of the famous Dance of the Seven Veils, performed for her stepfather (and great-uncle) Herodes, the Tetrach of Judea (busy man). Herodes is clearly trembling with lust for Salome, and Salome is in turn nursing a less-that-healthy obsession with the prophet Jochanaan, who is imprisoned in a pit in Herodes's court.
Performance convention for this high-art striptease since its first performance in 1905 has been for the singer-actress depicting Salome to end in a body stocking.
Maria Ewing's performance starts conventionally enough: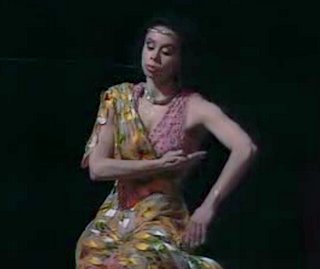 And there's a conventional amount of taunting of Jochanaan in his pit: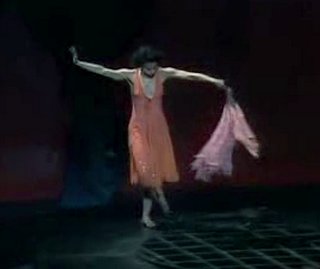 But in the end Ewing, shall we say, defies the traditional performance convention: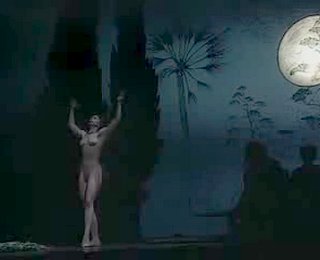 And it is just glorious. Pictures I can present here do it little justice. You can readily find video of this on YouTube: one example is here:
In the end, Salome insists on being brought the head of Jochanaan on a silver platter. Herodes, having given his word, has no choice but to comply. Salome's triumph was the subject of a famous illustration by Aubrey Beardsley.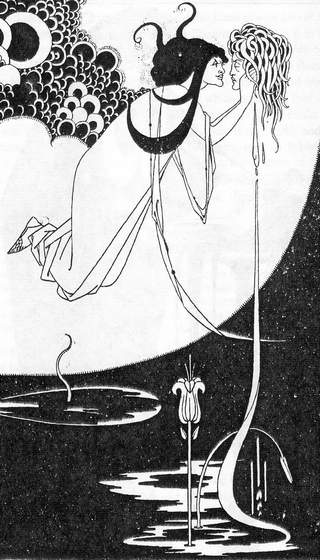 Bonus! Searching for Maria Ewing turned up an arguably even steamier performance by Francesca Patanè in a Rome production of Salome.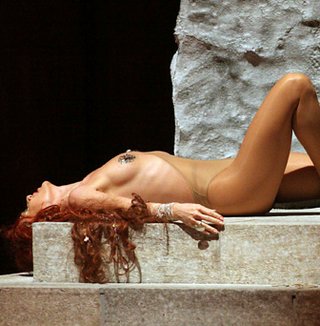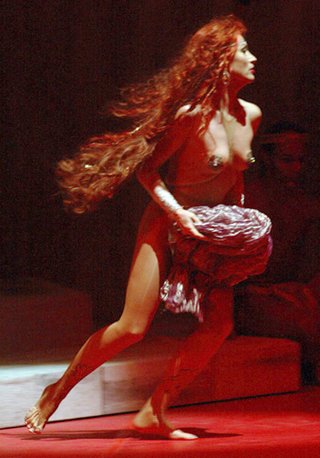 All for Art!