March 6th, 2010 -- by Bacchus
So I stumbled on this image (click it for a very large version) and liked it on sight: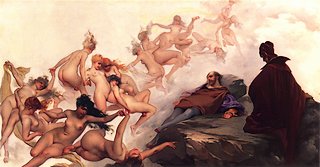 Let's zoom in on some details, shall we?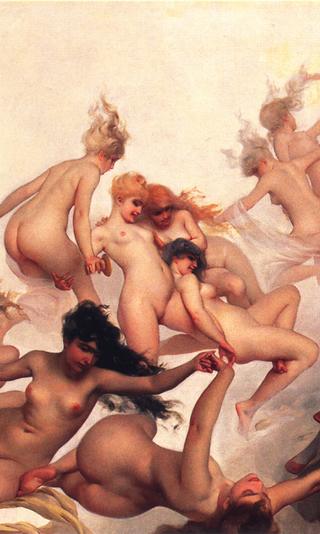 Next I learned that the painting is called The Vision of Faust, by artist Luis Falero. This made me think at once of my co-blogger Dr. Faustus and his own febrile visions; so you can imagine my delight, upon reading the fine print, at learning that the painting once hung in the same hotel bar as the Nymphs And Satyr painting by William-Adolphe Bouguereau that has played such an important part of the ErosBlog iconography over the years:
Some years ago the management of a large and popular hotel in this city, having added an elaborate public room to the house, hit upon the idea of attracting attention to it by filling it up with pictures and objects of art. Among the former the most prominent was a world-famous, large canvas by Bouguereau, the "Nymphs Teasing a Satyr," as the artist christened it, or "Nymphs and Satyr" as it is most generally known, and the painting by which Luis Falero effectively established his reputation, "The Vision of Faust."

These pictures alone, and they were but part of a number more, cost many thousands of dollars. It has been estimated, by one of the heads of the house, that they alone have paid some ten times their cost in the amount of custom they have attracted, and relatively to the advance in market value of modern paintings of the first class, they could now be sold for double what was paid for them.
Similar Sex Blogging: