August 2nd, 2011 -- by Dr. Faustus
Sometimes there are subtitles that make me wonder, "Were they trying to be this funny?" I spotted one recently in the 1965 Italian sci-fi movie La Decima Vittima that was clearly ErosBloggable.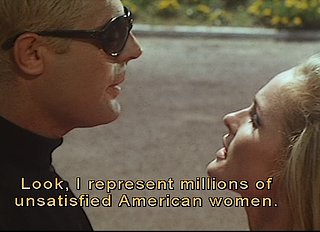 That's Ursula Andress, attempting to vamp Marcello Mastroianni to his doom. If she succeeds, doubtless millions of American women will have go on unsatisfied.
Bonus movie trivia: Do you know those gun-brassieres worn by the fembots in Austin Powers? Well, I'm pretty sure this is the movie that invented that concept…