September 28th, 2011 -- by Bacchus
It's been awhile since I posted any Public Disgrace material, for the simple reason that the site has a three-part formula of which really only one part amuses me. They mix light-hearted, mostly-clothed, genuinely-public bondage kink on the streets (the part I sometimes like) with hard-core bondage sex in controlled spaces adjacent to public spaces but mostly not visible from them (ho-hum, though I can respect the technical production challenges) and with gang-bangy kink sequences in controlled interior venues with a lot of spectators (does nothing for me, although it was apparently so popular in general that Kink.com was moved to start another site called Bound Gangbangs that features it exclusively).
I was moved to post these few pictures (from the light/clothed/public bondage part of the formula) from a recent shoot, nonetheless, because I find the model, Dulce Mariposa, to be almost inexpressibly cute: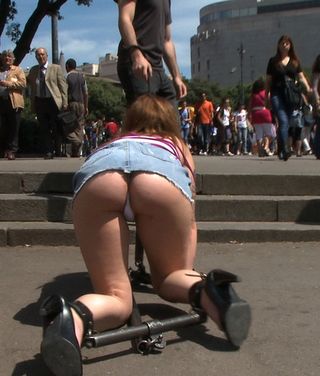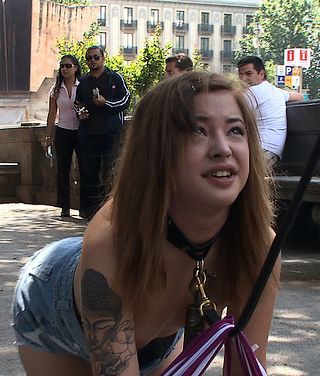 There are some more free samples (pictures and movie clips) here.
Similar Sex Blogging: