January 27th, 2015 -- by Bacchus
This luscious red leather version of the Stockroom's famous and exclusive Bolero Straitjacket offers all the restraint of a traditional straitjacket with much less fun-killing body coverage: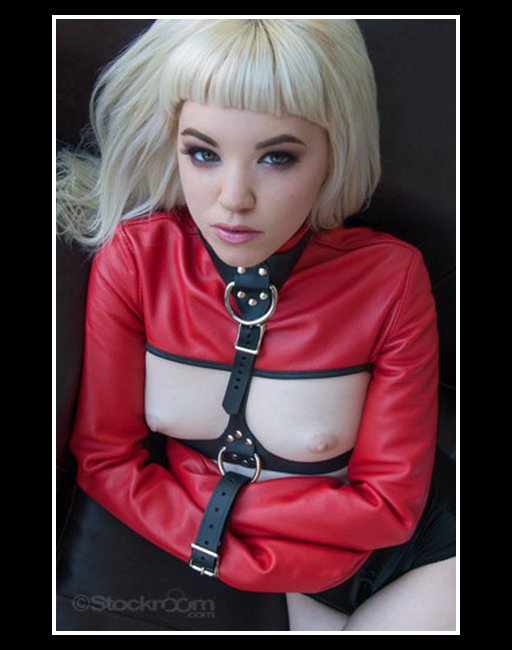 Our signature Bolero Straitjacket is now also available in a soft and supple "lipstick red" garment leather.

Made of high quality garment leather, latigo belting and nickel-plated hardware,the Red Bolero Straitjacket™ is a fantastic addition to our signature line of quality leather gear.

Like a traditional straitjacket, our Bolero Straitjacket™ has a buckling collar and back closures in addition to the extra long glove-like sleeves that extend beyond the fingertips. The sleeves end with a small rectangular ring on one and a 1" wide strap on the other.

The features that make it unique are its cropped length and the vertically and horizontally adjustable chest strap which leave nearly the entire chest and back exposed. The proper positioning assured by the cropped feature and the adjustable chest strap makes the traditional crotch strap unnecessary without sacrificing functionality as a restraint. The two heavy gauge D-rings provide additional points for attachment.
See also: The Bolero in traditional black leather, the perforated Bolero for breathability and longer-wearing comfort, and the Bolero for men.
Similar Sex Blogging: