April 22nd, 2015 -- by Bacchus
The groaned phrase "This is just so wrong…" is something I try never to utter here on ErosBlog, as a matter of editorial policy. One man's "wierd and creepy" is another woman's "crazy hot", and there's no predicting it, and I know better than to try. I don't wanna judge. But that doesn't mean I am not subject to the impulse, sometimes. Was this one of those times? Well, maybe: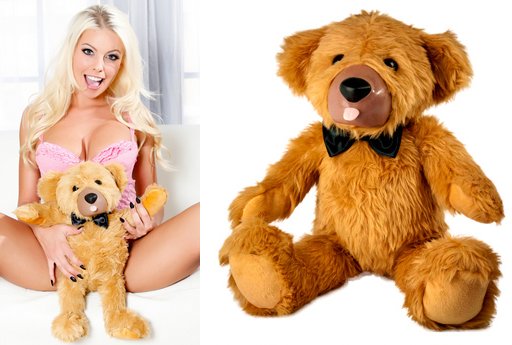 Meet Teddy Love. Teddy's a bear with a magic muzzle. Teddy… well, words fail me. Allow the professional copywriters to take over the duty:
Ready to meet your new best friend? This tantalizing teddy bear is more than just a comforting cuddle buddy; its soft plastic nose, muzzle, and protruding tongue conceal a powerful motor that turns this plush pal into a beast in bed!

Teddy Love bridges the gap between classic stuffed animal companion and adult pleasure product, keeping the best of both worlds. When you add 3 AA batteries to the bear's back pocket and squeeze the right ear, Teddy comes alive and can provide you with hours of orgasmic delight. Control the vibration speeds and settings by simply squeezing the bear's left ear until you find the feeling that's right for you and let nature take its course as this hands-free toy lovingly explores your honeypot.

Besides being comfortable and non-threatening, Teddy Love's design makes it a breeze to clean and store. Its body-safe muzzle is made from phthalate-free, food grade TPE (thermoplastic elastomer) and its fur is a silky soft polyester fur spot cleans easily. Best of all, you can safely store your Teddy wherever you would normally keep a stuffed animal without fear of embarrassment.

Clean muzzle using a damp washcloth with warm water and antimicrobial soap or a body-safe toy cleaner. Spot clean fur as needed. Do not submerge any part of this toy.
"Spot clean fur as needed." Words to live by!
Similar Sex Blogging: