January 24th, 2016 -- by Bacchus
Do you pay for your porn?
You should pay for your porn, especially if you like it fresh and hot and new. And if you do pay for your porn, you may be aware (at least vaguely) that porn pricing can be somewhat arcane and hard to figure out.
The same porn site may have half a dozen offers at different pricing with different terms. You can pay for a month with automatic rebilling, sometimes there's an initial discount that goes away when the rebilling kicks in, you can pay for three months or six months (with or without rebilling, depending on the offers available), you can pay for a year, sometimes (though rarely) you can even buy a lifetime membership. Further complicating matters is that not every pornsite shows every offer to each customer who lands on the "buy now" page. The prices you see may depend on who sent you, or (more precisely) on the codes used to build the links you followed. And so it is that porn consumers, like consumers everywhere, are sometimes forced to wonder whether they are getting the best price. And that's where pages like Hogtied Discount at the Discounted Porn site come into play: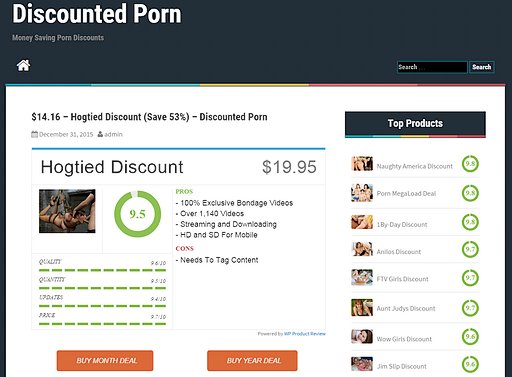 The Discounted Porn people are doing their best to relieve you of that uncertainty, by building pages for each of the most popular porn sites that break down all of the available offers and present you with the best price at the cheapest discount. Right now for Hogtied.com, that turns out to be a $14.16-per-month offer that compares very favorably (a 53% savings!) with the regular $29.95 monthly price.
Of course there are also full reviews of the sites on offer and some other useful porn-consumer information. Enjoy!