November 25th, 2016 -- by Bacchus
Right now there are ten thousand sex toy bloggers lighting up their blogs and your social media feeds with Black Friday sales, special offers, and coupon codes for individual sex toy deals. I can't compete with that cacophony, and what's more I don't want to compete with it. Instead, I want to offer you a "smart shopper" tip that I'm not seeing elsewhere.
My favorite sex toy outlet has a Black Friday through Cyber Monday sale every year, with a long list of items discounted from 30%-70%. So far, so ho-hum — although there are always a couple of very tempting 70%-off items. This year it's an adjustable metal spreader bar in non-threatening pink (LOL) and some stylin' screw-type nipple clamps. But no: what makes this year's Black And Blue special actually special is the fifteen percent discount-code-at-checkout, which applies to non-sale items as well as to sale items: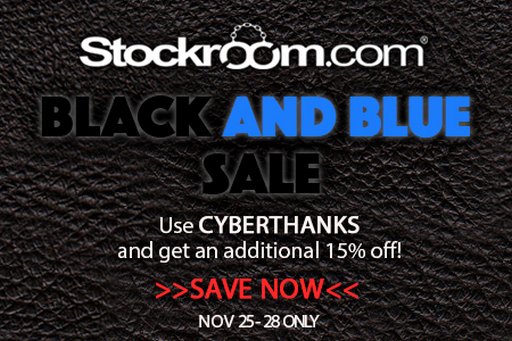 The sex toy shopping tip I promised hangs on that unusual discount code. My advice is to shop the code, not the sales. Ignore the sale items and go shopping for the expensive sex toys that never get discounted anywhere. I would start with the top-drawer name-brand designer vibrators and the metal and art glass dildos and plugs. (Where else are you seeing a chance to save almost 45 bucks off the price of an Njoy Eleven?) Consider the large silicone toys, also; they rarely get much discount love, because the silicone in them costs so much. And finally, of course, if you were ever dreaming of dungeon furniture, expensive e-stim gear, or a fucking machine, this discount code is your new best friend.
Shop the "cyberthanks" discount. Use it wisely, on expensive items that don't usually see discounts. That's my Black Friday sex toy shopping tip for you. Enjoy!