December 6th, 2016 -- by Bacchus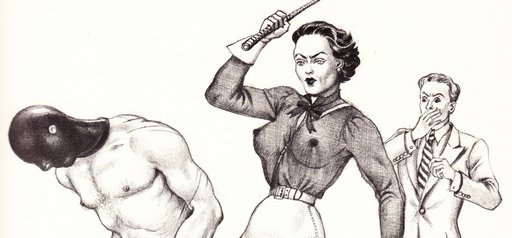 Readers might remember my "deep dive" post last May into the erotic art of Bernard Montorgueil, the mysterious 20th-century femdom artist whose name, it now appears, is more likely to be properly spelled "Montorgeuil". For this spelling correction and a great deal more besides, I am indebted to Stephen M of Paris Olympia Press: A Collector's Blog.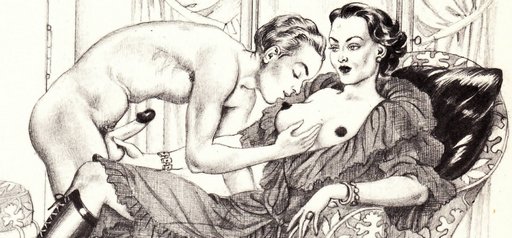 In my May post, I seized with interest upon the fact that a Christie's auction description of four Montorgeuil manuscripts sold in 2014 included this scan of an illustration that wrapped across two pages and surrounded the manuscript text, in a way that had never before been seen (by me, anyway) on the internet. I immediately wondered if those manuscripts included more such "illumination", and began thrashing through the bibliographical descriptions of other known published editions, trying to determine whether any true facsimile editions are "out there" that I might be able to get my hands on for scanning purposes. My conclusion at the time was that the most likely editions were by Bel-Rose in Rotterdam in 1970; another series of editions by Dominique Leroy are known (as I showed in my May post) to have cropped and rather garishly colorized versions of the artwork.
Thus my current indebtedness to Stephen M: in a series of four posts, he clarified that the Bel-Rose editions appeared in simultaneous French and German editions, identical in all respects except that the French editions reproduce the hand-calligraphy of the Christie's manuscript, while the German editions were printed in a standard typeface. More importantly for our purposes, he posted a complete set of good-quality scans of the illustrations from all four volumes. The scans dashed my hopes of finding numerous more pages of hitherto-unseen detail-art wrapped around the calligraphy; the page scanned thus by Christies appears to have been the only such. But in compensation, now we have the complete set of the artwork from the Bel-Rose editions! The art is uncolored, having neither the delicate coloring of the original manuscript nor the garish colorization of the Leroy editions.
Here are the proper titles and bibliographic information for both sets (French and German) of the 1970s Bel-Rose editions, pieced together from various sources:
Les jardins des delices des supplices:
1. Les quat' jeudis (Editions Bel-Rose, Rotterdam 1970)
2. Barbara (Editions Bel-Rose, Rotterdam 1970)
3. Dressage (Editions Bel-Rose, Rotterdam 1970)
4. Un Brune Piquante (Editions Bel-Rose, Rotterdam 1970)
Die Gärten der lustvollen Freuden:
1. Vier Donnerstage (Editions Bel-Rose, Rotterdam 1970)
2. Ein Nachmittag bei Barbara (Editions Bel-Rose, Rotterdam 1970)
3. Dressur (Editions Bel-Rose, Rotterdam 1970)
4. Die Nadelliebhaberin (Editions Bel-Rose, Rotterdam 1970)
And now let's see the art from the first volume. (Galleries of the art from volumes 2-4 will appear in future posts.)
Vier Donnerstage:
More next time!
Similar Sex Blogging: