January 14th, 2017 -- by Bacchus
Since long before the invention of the web, people have been using the internet to collect and distribute erotic stories. I've linked for many years to some of these collections, including at least one that has its roots in those pre-web Usenet days. Erotic story collections are usually free, the authors are usually unpaid, and the best of the collections are curated in some way for quality. What's more, you tend to get more diversity of subject matter when people are writing for the love of their own particular fetishes. (Commercial erotica, for all its pleasures, tends to hew to a much narrower set of topics and story lines.) For all these reasons, I have loved this kind of adult story collections since forever.
Today I'm pleased to have learned about Noveltrove.com, which is an erotic stories community featuring not just sexy prose, but also author pages and a forum where authors and readers can hang out and discuss the stories. It's both free-to-use and free of advertising: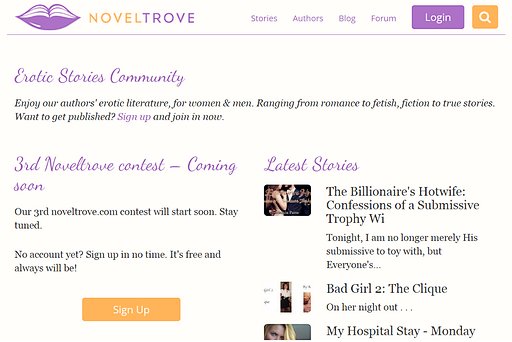 And what about the stories themselves? The half-dozen stories I've dipped into so far have been well-executed and, shall we say, sufficiently erotic. Here's an example from Time To Play A Game, a light-hearted husband/wife scenario in which they play a trivia game and the loser has to do anything the winner wants for 24 hours. She's used to winning, but this time, she did not win, and so now, for the first time, it's her turn to do what she's told:
"Jason, I told you. I can't call in sick today."

"I'm not asking you to call in sick. I mean, if you could and if you wanted to then that would be fine. But if you can't, you can't. All I'm asking you to do is to wear the pearl panties. You can take any precautions you need to so you don't get fired or anything. Just wear the panties all day."

"And that's it?"

"That's it."

I raise my eyebrows and take a sip of my coffee and start heading over to the bathroom. This ought to be easy enough. I slip the lace up over my hips and pull the pearl strand under to the back to tie it into place.

Oh. My. God.

Even before I finish tying the ridiculous bow in the back, the pearls work their way across my opening and graze against my clit. This is not going to be as easy as I thought.

I pull my pants back up. Every movement tugs on that strand of pearls. Each step stimulates my clit as the pearls make their way between my lips. The folds of my pussy swell and blossom under the gentle stimulation.

Oh, damn.

I walk back out of the bathroom. Jason is wearing the largest smile I have ever seen, holding out my coffee mug.

"I don't know if I can do this," I mutter.

There doesn't seem to be a good way to walk. No way to decrease the pearls' effects on my clit. I'm dripping relentlessly. My core aches for more. Even my nipples become harder and graze against the smooth silk of my bra.

"No trying to get out of this, now."

"No. I'm not trying to get out of this. I just don't know if I can walk around work all day like this." My breathing is falling out of control. I grab onto his broad shoulders as the pearls shiver against my clit. "I just think tomorrow might be a better day for this. That's all."
There are more than a thousand stories in almost thirty categories from "anal" to "voyeur". Lots to enjoy!