April 4th, 2017 -- by Bacchus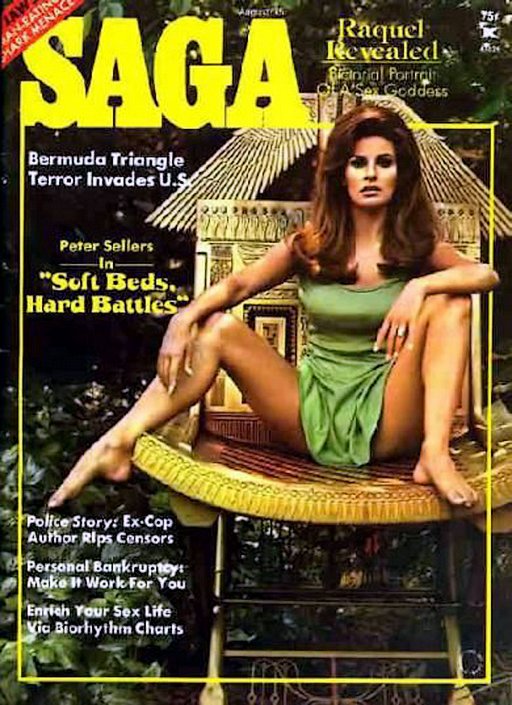 This is just a note to let my Patreon supporters know about one of the projects in train made possible by your generosity. The above magazine (Saga, from August 1975) features a pictorial of the gorgeous Raquel Welch under the headline "Raquel Revealed: Pictorial Portrait Of A Sex Goddess". It is my considered conclusion after substantial research that no good and complete scans of that pictorial are currently to be found on the internet — a deficit I hereby propose to remedy, in aid of which I have already ordered a scanning copy of the magazine in question.
Several photos from the pictorial can be found on the internet, including this one at Bondage Blog of Raquel in a fetching posture on her knees: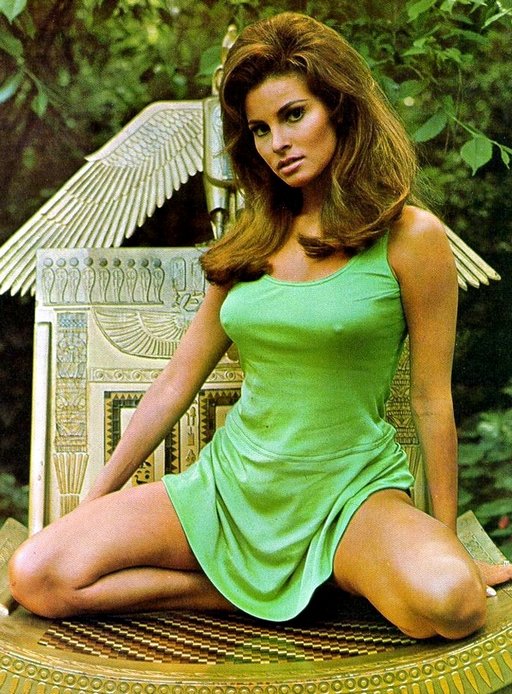 It was my skepticism about the nipples on display beneath her tiny dress, and whether they might have been "touched up" by an internet fan, that drove me to research the photo's provenance, but I quickly discovered that nobody involved in the numerous social shares of the kneeling photo (and of its companion shots similar to the one on the Saga cover) seemed to have any idea of the origins of the photos, despite them being widely shared, albeit in various low resolutions with dubious color indexing. By the time I tracked down the Saga cover that revealed the true source, I knew the world needed some nice big full-color scans of the entire pictorial. Watch this space!
Disappointing update: It turns out the cover photo on the Saga magazine is the only one from that shoot actually published on/in the magazine; the inside "pictorial" is three pages of unrelated photos. Neither the Bondage Blog photo or the other photos from the same shoot drifting around the web were published in Saga. It's back to the provenance mines for me!
Similar Sex Blogging: