November 3rd, 2017 -- by Bacchus
There's a funny wedding photo that makes the rounds on social media sometimes, usually with a lot of sex-negative commentary: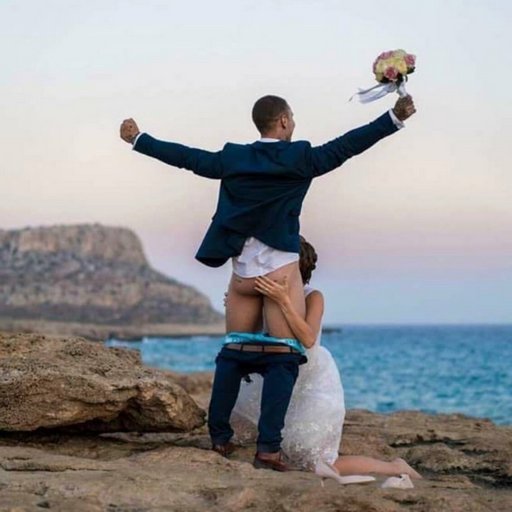 Usually these are not easy to track down to the source, but I managed fairly well with this one. It was originally posted to social media in a wider format: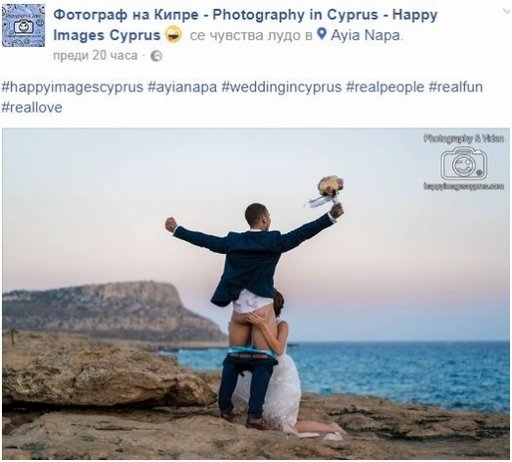 As you can see from the hashtags, it was taken in Cyprus. The press I found on it, however, seems to be in Bulgarian:
Гореща сватбена фотосесия! Булка прави фелацио на любимия си в Агия Напа (СНИМКА 18+)

Брутална сватбена фотосесия скандализира интернет. Едва ли са много хората, които ще дръзнат да се изтипосат по подобен начин пред обектива на камерата. И то в паметен ден от живота си!

В курортния кипърски град Агия Напа обаче задръжките падат бързо.

На кадър, споделен във Фейсбук от групата Фотограф на Кипре – "Photography in Cyprus" – Happy Images Cyprus, се вижда необичайна гледка.

Младоженец е разперил ръце с букет цветя и гледащ към безкрайното синьо море. Задните му части и обективът са разделени единствено от ръката на щастлива булка, страстно стиснала трибуквието му, пише Блиц.

Пременена в бяло, жената е поставила своите колене на скалата и обгрижва своя спътник в живота с орална любов.

Фотосът е придружен от няколко тага като "Сватба в Кипър", "Истински хора", "Истинско забавление", "Истинска любов".

Под скандалната фотосесия заваляха и куп шеговити коментари като: "Боже, дано това е младоженеца" и "Боже, дано това не е само младоженката".
Google's machine translation is even less optimal than usual, but for what it's worth:
Hot wedding photo shoot! Bride makes her beloved fealist in Ayia Napa (Photo 18+)

A brutal wedding photo shoot scandalizes the internet. There is hardly a lot of people who will dare to get in the same way in front of the camera lens. And in a memorial day of your life!

However, in the resort town of Ayia Napa, the retreat is falling rapidly.

A photograph, shared on Facebook by the photographer Photograph in Cyprus – Happy Images Cyprus, shows an unusual view.

The bridegroom spread his hands with a bouquet of flowers and gazing at the endless blue sea. Its rear parts and lens are separated only by the hand of a happy bride, passionately clinging to its tribute, writes Blitz.

Worn in white, the woman put her knees on the rock and cares for her companion in life with oral love.

The photo is accompanied by a few words such as "Wedding in Cyprus", "True people", "True Fun", "True Love".

Under the scandalous photo session, a bunch of funny comments like: "God, may it be the bridegroom," and "God, let's not just the bride."
I am particularly amused that Google came up with "fealist" (huh?) as a translation for "фелацио" in the headline; I don't read Bulgarian or know the details of the version of the Cyrillic alphabet they use, but I do know enough to know that's a direct transliteration of our old friend "fellatio".
Similar Sex Blogging: