February 5th, 2018 -- by Bacchus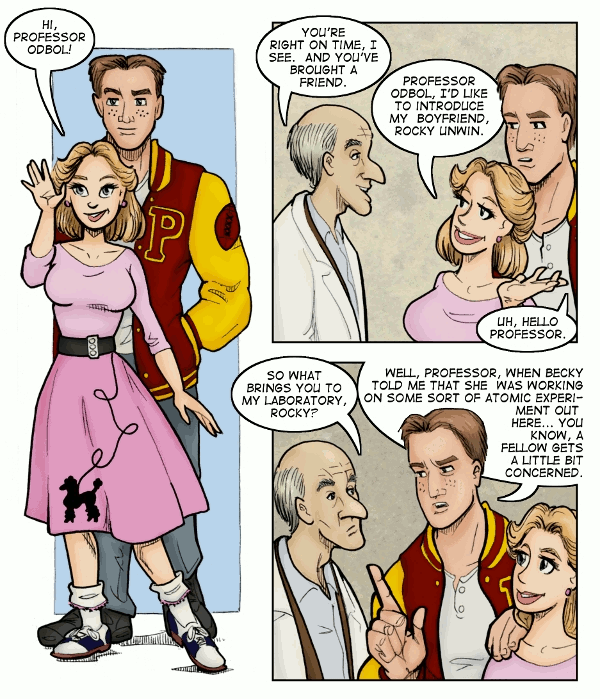 I am thrilled to announce that my dear friend Dr. Faustus has released his latest production: a free online twenty-four page full-color mad-scientist comic book entitled Bubbles.
A few words on the motivations behind this mad-science comic are perhaps in order. Dr. Faustus has been depressed for some time that his home country is shrinking in moral stature around the globe. While Dr. Faustus is not in a position to affect high government policy — not, at least, until he completes work on his orbital death ray, which continues to resist final calibration despite all best efforts — he does possess the means to engage in media outreach to the peoples of the world, to demonstrate that not all Americans are ugly Americans. No indeed! Some of us are crazy Americans.
What's more, since his twisted boyhood, Dr. Faustus has cherished the notion that beyond the barriers of geography and language, he has potential friends around the world who share some of his strange obsessions. For them… for us… for the world! he is launching "Bubbles."
"Bubbles" is a short satiric mad-science comic written to serve as a Rosetta-stone text for certain themes dear to Dr Faustus's heart. It deals with adult themes (note that "adult" doesn't necessarily mean "mature!") but Dr. Faustus believes you could open any page of it on your browser almost anywhere in the world and not go to jail or get fired. He hopes. No warranties express or implied, contents packed by weight not volume, items may shrink in shipping, do not apply for refund, step right this way to see the world-famous egress!
At launch (that's now, folks!) there are versions of "Bubbles" available in English, Esperanto (believe it or not, Dr. Faustus has a sentimental utopian side), French, German, Italian, Latin (Dr. Faustus wants to make sure the Pope has the chance to enjoy "Bubbles"), Portuguese, and Spanish. About that Pope: if by chance or design ErosBlog has any readers in the Vatican (unlikely, I know!) I'd consider it a personal favor if you'd print out a color copy of Bubbles and sneak it into the Pope's daily correspondence. If you could sneak another copy into the Vatican library and conceal it in the stacks somehow, that would be extra awesome.
These first eight languages are just the beginning, because Dr. Faustus genuinely is mad. (This is an OEES: an Official ErosBlog Editorial Stance.) In the process of production, there are versions in Arabic, Bengali, Chinese (both simplified and traditional characters) Farsi, Hebrew, Hindi, Indonesian, Japanese, Korean, Polish, Punjabi, Russian, Tagalog, Tamil, Thai, Turkish, Urdu, and Vietnamese. Dr. Faustus hopes to roll out another one of these additional translations about every other week or so, though this will depend on the availability of his collaborating artist. Still yet more translations in still yet more languages are possible after they finish working through that impressive list, and Dr. Faustus says he would be happy to hear good-faith recommendations for any language you would like to see. Dr. Faustus reports with regret that he currently has no versions planned in indigenous African languages, and he would welcome suggestions as to such for future translations.
If you want to make your own version of the comic in a language not offered, there is a "blank" version of the comic you can download from the Bubbles site. Dr. Faustus might even be willing to publish it for you!
If you're qualified and willing to translate this comic into Yiddish or as much as ancient Greek as possible (what would Aristotle have called a tube girl?), Dr. Faustus might have a reasonably generous offer for you; do get in touch with him.
Folks, Bubbles is funny, twisted, and beautifully-drawn. Enjoy!
Similar Sex Blogging: